Home Preparation.  It's What We Do Best.
As real estate pro's we help people prepare their homes for market every day. Something that seems daunting to you is just another day at the office for us.
We aren't your average real estate team. We're there with you every step of the way; rolling up our sleeves and helping you get it done. Let us walk you through, manage and participate in preparing your home for sale. It's what we do best!
Tips on Preparing Your Home for Sale
If you are planning to sell, the Devin Sanford Homes Team can help you maximize your profit by preparing your home properly and efficiently.
Here are some tips and advice to get you started.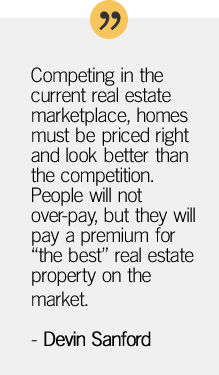 1. Repairs or Maintenance
Buyers are always looking for a deal, so making sure all necessary repairs and maintenance are done will help to eliminate their negative checklist. We can provide you with checklists that will help you prepare your home for marketing and sale.
2. Depersonalizing
Start packing early! Buyers need to envision themselves living in your home. To help them achieve this vision, you should remove all distractions by packing away personal photos and collectibles. This will allow buyers to imagine the home as their own and not someone else's.
3. Odors
You have only one chance to make a great first impression. If buyers walk into your home and smell smoke, pets, or strong cooking odors, they may be turned off and either cross your home off their list, or reduce their offer price.  You may want to ask a friend or relative to be brutally honest with you about this.
4. Disconnect Emotionally
Now that you've decided to sell your home, try to start thinking of yourself as a business person and a home seller, rather than a home owner. By looking at the transaction from a purely financial prospective, you'll distance yourself from the emotional aspects of selling a property in which you've undoubtedly created many memories.
Also, try to remember how you felt when you were shopping for your home. Most buyers will also be in an emotional state. You are selling not just a piece of property, but also an image—a dream and a lifestyle.
5. Dirty Homes
Your home's first impression is a lasting one, so show potential buyers that your home has been well maintained by making sure it sparkles. Dirty homes are a big turnoff for buyers.
Tip: Make sure to pay close attention to the condition of the front door and hardware. This is the first interaction your potential buyer will have with your home. If the door is weathered, hard to open, or otherwise unattractive, it sends a negative signal to the buyer.
6. Showing a room's proper function.
Buyers can have a hard time visualizing how furniture can fit into a room, so you need to show them. If you have your dining room set up as a kids' play room, most buyers will not be able to see themselves enjoying family dinners in that space.
7. Poor Light
Poorly lit rooms can be a turnoff for most buyers, especially during evenings or overcast days, and dark corners can make a room feel smaller. To brighten up a room, add more light fixtures. Open or remove window treatments, trim any trees or shrubs blocking the windows, or repaint darker rooms with a color that reflects light.
8. Updates
Today we are seeing a growing segment of buyers willing to spend the extra money to get an updated and well maintained home that is in move-in-ready condition. Making strategic investments in your home will increase your equity, and help sell your home faster and for more money.
9. Professional Advice.
When it comes to selling your home, it is in your best interest to take the advice of the experts. Devin Sanford Homes knows how to price your home so it will sell quickly and for the best possible price. The Devin Sanford Homes team consists of professionals such as a full time marketing expert, home stagers, contractors and inspectors, so taking their advice will not only get your home sold more quickly, but it will increase your equity as well.
10. Avoid Listing before staging, photography or renovations have been completed.
Most buyers who are interested in your home will view it within the first two weeks after the listing is published. This is your best chance to get an offer from an active buyer who has been out looking for just the right home. There are many agents who "jump the gun" and activate MLS listings before they are ready, including publishing without any photos of the home!
11. Hard to find
For variety of reasons, some sellers prefer not to have a for sale yard sign. Home buyers routinely explore neighborhoods without an agent and will drive right past your listing and call on the one down the street. A yard sign can significantly improve your chance of attracting the right buyer who already likes your neighborhood!
12. Hard to show
The easier the home is to show, the more showings you will have. The more conditions that a seller makes, before an agent can show a home, the fewer showings. Unfortunately, buyers don't always plan ahead and want to see homes not on their schedule. The closer they are to making a buying decision, the more impatient they will be.  Always be ready to show with 20 minutes notice.