Lifestyle
Trilogy at Redmond Ridge is the Premier 55+ Active Adult Resort Community in Washington State and the perfect spot for those who desire to live alongside people with common interests in the lush and green outskirts of Seattle, Washington.
Conveniently located within the city of Redmond, Trilogy at Redmond Ridge combines natural beauty with an active adult lifestyle. There are plenty of things to do within the community and around town. Only four miles to Redmond Town Center and about 25 minutes to downtown Seattle, residents can find everything from world class dining, shopping, sporting venues, live theater, the symphony, concerts, festivals, farmers markets, cultural attractions and much more.
Developed within 975 Acres of government protected Forest and Wetlands, and adjacent the 800 Acre Redmond Water Shed, Members can enjoy over 20 miles of walking or biking trails, great territorial and Cascade Mountain views, birdwatching, wildlife photography and more.
The 32,000 square foot private Cascade Club and 8,000 square foot Cedar Lodge serve as the communities' social hub. Home ownership in Trilogy at Redmond Ridge also means privileges such as staying in shape in the state-of-the-art fitness center, shooting pool in the game room, taking classes at the University of Washington Center for Learning, checking your email at the Cyber Café, crafting in the Art Studio, nurturing both body and spirit at the relaxing Tranquility Spa or participating in a variety of nearly 90 clubs.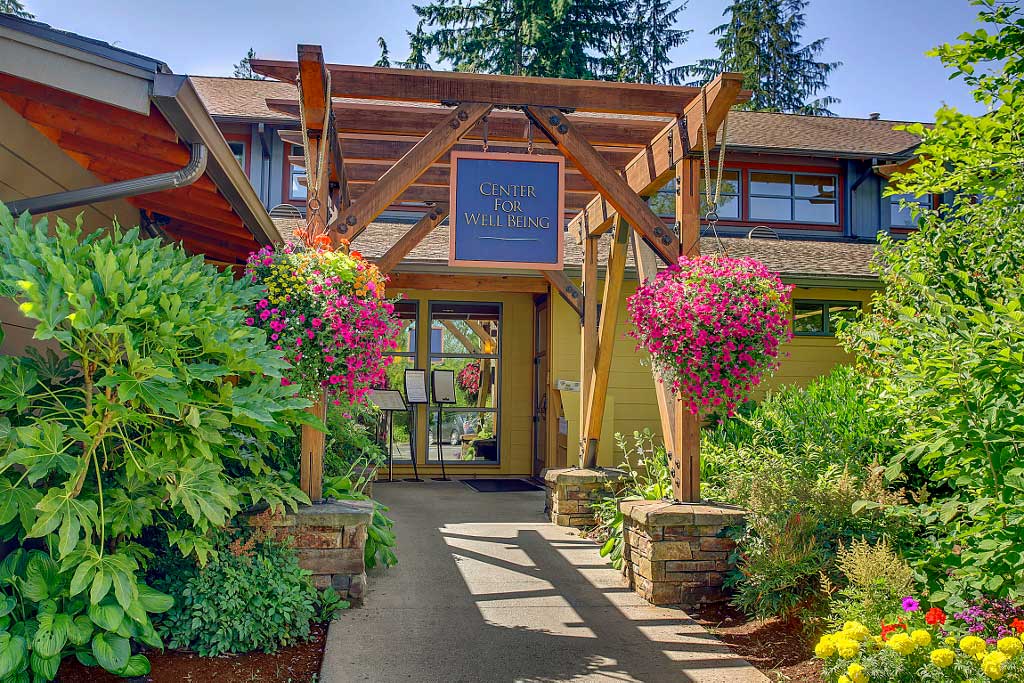 Trilogy at Redmond Ridge Lifestyle & Amenities
The Trilogy at Redmond Ridge philosophy is "Every day is an adventure, anything is possible", and it's based on four core principals of "Freedom, Exploration, Wellness and Connection". "New Homes, New Friends and New Beginnings" are the mantra of freshly developing Trilogy neighborhoods while "Social Interaction, Health and Well-Being and the Ability to Learn New Things" will always remain.
Here residents can exercise at the state-of-the-art fitness center, take yoga, Tai Chi, and aerobics classes, or enjoy the indoor Junior Olympic-sized pool and adjoining spa, which look out to the nearby wood. Just outside you'll find an 11 Acre Park with lawn bowling and croquet green, bocce ball and horseshoe pits, and pickleball and tennis courts as well as a playground for the grandkids.
Trilogy at Redmond Ridge is an ideal location for 55 or older Active Adults whether you desire more social activities or choose to be more contemplative. Cocktail hour and other events in the Grand Living Room and 2,825 square foot Crystal Event Room are a wonderful way for residents to get to know their neighbors. The Crystal Room combined with the fully equipped Catering Kitchen, 30-foot video screen and projector, covered Courtyard and outdoor fireplace overlooking the golf course can hold large weddings and meetings, providing revenue for the Residential Community Association.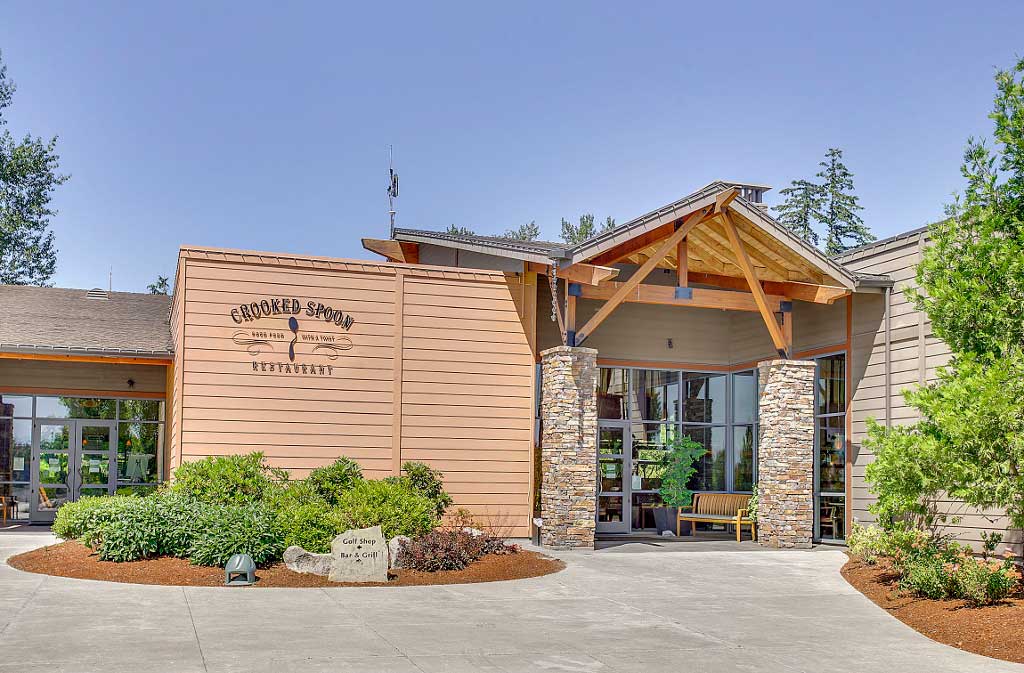 Trilogy at Redmond Ridge Golf
The Golf Club at Redmond Ridge is situated perfectly between Washington's Cascade Mountain range and the Pacific Northwest's rich and vibrant Puget Sound. The course received recognition as the "Best New Public Course in America" in Golf Digest Magazine during 2004. Designed by Arizona Golf Hall of Fame inductee Gary Panks, who has designed 26 well-reviewed courses, Links Magazine praised the course for having the "Best Conditions in the Pacific Northwest."
Providing spectacular views of the Cascade Mountains and weaving through the community and Redmond Watershed this 75-acre, par 70 course blends the natural beauty of the area with emerald fairways and challenging water features. Three tees are available for variable play, on this Golf Digest 4.5 Star course, along with a driving range and putting green.
Don't forget to stop by the 19th hole where you will find the pro-shop and fine dining at the Crooked Spoon Restaurant, a favorite hangout for golfers and locals alike. While you're there, try one or two of the region's finest wines and microbrews.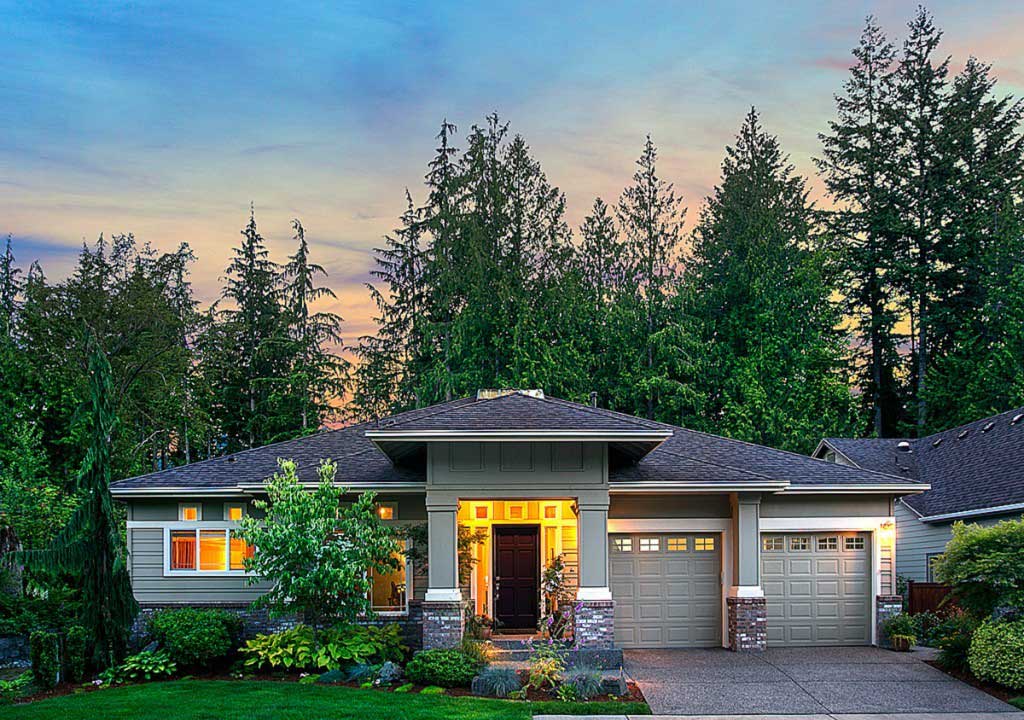 Trilogy at Redmond Ridge Homes & Real Estate
Trilogy at Redmond Ridge completed its first new home in 2001 and the developer, Shea Homes, Inc. reached buildout during 2014. The Community consists of 1,523 single-family homes constructed on approximately 300 acres of the 975-acre resort. Considering the championship golf course, 500 acres remain as a protected nature preserve.
Designed specifically for Active Adults aged 55 and better, exceptions can occur if one member of the household is at least 53 years old. At least one resident must be age qualified, and no-one may be under the age of 18. There are 23 different floor plans offered which range in size from 1,185 to 3,648 square feet. There are five distinct collections of homes within the community, all with tall rooflines, nine- or 10-foot ceilings, two or three-car garages, and blending of over 60 elevations (exterior designs) of architecture.
Shea Homes feature a fusion of northwest architecture and modern designs creating homes that are distinctive in style as well as highly livable. Look for dramatic entryways, large Great Rooms, flexible living spaces, big windows, two or three car garages and a variety of orientations.
Buy with the Most Experienced Broker in Trilogy at Redmond Ridge
Give yourself every opportunity to come out on top whether investing or selling, by working with the most knowledgeable Broker in the community.
The Redmond Area
Trilogy at Redmond Ridge residents can enjoy both the natural beauty of the surrounding forests, rivers, and protected wetlands, as well as the convenience of local shopping and services. Across the street and walkable for many, you'll find a terrific QFC shopping center with a Starbucks, an amazing Deli, Fresh Sushi, a huge wine selection with Sommelier, fresh seafood and more. The center includes a larger Starbucks, the Three Lions Pub, Wells Fargo Bank, McDonalds, Village Dentistry, Orthodontist, Eye Care, GNC, Mod Pizza, Papa Murphy's, Jalisco Mexican Restaurant, Silver Spoon Thai Restaurant, Tokyo Teriyaki, Physical Therapy, Chiropractic, Dry Cleaners, UPS Store, Verizon Store, Hot Yoga, Pet Store, Kiddie Care, Anytime Fitness and more.
The surrounding city of Redmond is ideal for Active Adults. Recognized as the bicycle capital of Washington, the city features 12 miles of beautiful biking and hiking trails, enormous parks and large lakes for swimming, water skiing and fishing. If it's shopping your looking for, you'll find familiar stores like Home Depot, Target, Fred Meyer, and Ross less than five miles off the Ridge. Redmond Hosts numerous restaurants from Taco Time to Prime Steakhouse and everything in-between.
If it's shopping you relish, you'll love the Redmond Town Center with two-level indoor and outdoor browsing of over 120 shops, restaurants and services including a wonderful I-Pic theater where you can order food and drinks from your reserved seat. Seasonally, be sure to take in the Cirque du Soleil or the fabulous horses of Cavalier under the Big Top at Marymoor Park. The truth be told, the things to do in Redmond are endless.