What Should You Do With Your Home When Moving to Assisted Living? – Guest Blogger Jim Vogel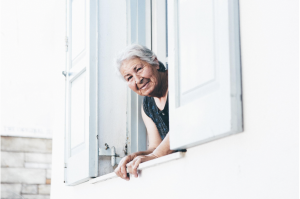 By Jim Vogel  |  Elderaction.org
An estimated one million Americans currently reside in assisted living communities, and this number is expected to grow thanks to the aging population. If you are considering making the transition to such a facility, you will enjoy many advantages. You will be connected with an automatic social network, for instance, and daily chores like cooking and cleaning are done for you, so you have more time and energy to enjoy life. Assisted living can be costly, however, and you need to be able to fund this new lifestyle. Before moving, you'll need to figure out what to do with your current home. Review the options below to figure out which one is best for you.
Sell your property for a one-time profit
One option is to give up your old house completely and sell it. The money you make can cover years of assisted living costs, but you want to make sure your funds won't run dry. Calculate how much you would need by researching the prices of facilities in your area. The AARP reports average monthly prices of $2,100 to $2,900 for assisted living facilities. Then research the housing prices in your area. Look at similar homes in your neighborhood in terms of size and style to get an accurate estimate of what yours would sell for. Be sure to consider fees and taxes and realtor commission.
If you decide to go this route, there are steps you can take to maximize your home's value. Investing in professional real estate photos is essential—research has shown that properties with pro pictures sell for more. Take photos when the sun is shining as the bright light coming in through the windows will make the space look larger and more welcoming. You can also eliminate clutter for a more spacious appearance and add "luxury" touches like fluffy white robes in the bathroom to amp up the appeal.
Rent your home out for a steady, reliable income
If you take a look at the market and find that you won't make enough by selling, you can rent out your home instead. You can always sell at a later date if you want to; forecasts show that real estate prices are climbing slowly, so you may be able to sell for a higher price in the future. Renting out your home gives you a monthly income that can fund your assisted living costs. Use a tool like Rentometer to get an idea of how much rent you can charge.
There are a couple of issues associated with renting to consider before you opt for this choice. First, as a landlord, you will still be responsible for maintenance costs, such as plumbing. Given that the average house costs upward of $1,000 a month to maintain, this can add up. Second, you want to make sure your tenants are reliable. If they don't pay on time, you will be left with the hassle of chasing payments. Make sure to vet potential residents thoroughly. Run a credit check and ask for pay stubs to verify their employment, and conduct an in-person interview before they sign a lease.
If you don't want to rent out your property long-term, you can transform it into a vacation rental property. That way, if you anticipate returning to your home at some point, you won't have to wait until the current tenant's lease expires. As Turnkey points out, Seattle is a popular destination for tourists, thanks to its iconic neighborhoods (Shoreline, Ballard, and Queen Anne, just to name a few), restaurants, and attractions. That way, you know you'll have a steady source of income from people who want to enjoy the city's many sights.
Enlist the help of a family member to care for your house
Finally, if selling your home doesn't seem to be a viable option and you don't want to deal with the hassle of renting, you can entrust your home to a family member. One option is to provide discounted or free rent and, in exchange, leave them to cover costs (and arrange the details) of any needed maintenance. While it may not bring you as much cash as the aforementioned options, you will be spared the headache of managing tenants and can also enjoy the peace of mind that comes with keeping the property in the family.
As you examine the above options and weigh the financial pros and cons, don't forget to take your personal wishes into account. For example, if the idea of selling the old family home just breaks your heart, opt to rent it instead. You want to be secure and happy with whatever decision you make so that you can go on to truly enjoy your time in assisted living without regrets.
Photo Credit: Unsplash