The Most Trilogy Experience, Knowledge, Sales and NOW a 1% LISTING FEE…
                How Things Have Changed Year-Over-Year… 
                             Six Week Supply of Homes in King County; Five in TRR…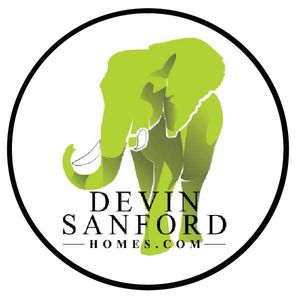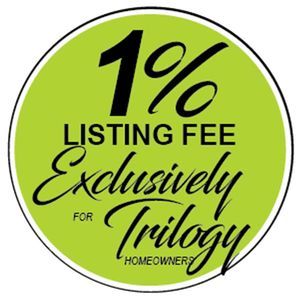 The Elephant, Devin Sanford is Going 1%
In the famous words of Arnold Schwarzenegger, "I'm back". After a several month hiatus from producing monthly market reports, the last of which was the 2022 Year-in-Review, I'm back in action.

I have produced the detailed "Trilogy Year in Review" every consecutive year since 2011. It comes out during January of the following year. For 2019 and 2022, they were not provided in a hard copy to the 1,523 TRR mailboxes however, I sent out postcards sharing the reports could be found at www.DevinSanfordHomes.com under the Trilogy or Blogs & News tabs. I remain dependable. Check it out and stay tuned.
Some may wonder what I've been up to. Prior to my 2003 beginnings helping to develop Trilogy, I was a Windermere guy working out of the Snohomish Branch. Because I allowed a small 1% listing fee team to come in and take over my longtime source of income serving Trilogy, I've been expanding my business back to my roots outside of Trilogy in Snohomish and King Counties as well as ancillary business in Pierce and Skagit Counties. Although, I will continue to serve those who seek help almost anywhere at a conventional fee, I've missed Trilogy immensely.
Let's be honest, this is my 20th year serving Trilogy and I just can't let it go. I have too much invested. It's been very difficult watching my favorite clients, many of whom I've had a cocktail or meal with disappear from communication and I know what's coming, they've listed their home for sale with the 1%ers. I understand, I really do. It's business but many times they didn't come out unscathed. It's also not all about money. It's about serving, seeing friendly faces and a career building friendships and something I'm not ready to give up so, yes, I'm back and I'm back at a 1% Listing Fee (3.5% Total including a 2.5% Buyer's Agent Fee) for Trilogy Homeowners. Now, you have a better choice, and I can catch up with all the work you've done for your homes, much of which was done by vendors I provided. That excites me to see.
I've done a lot of weighing and measuring and with the average price in Trilogy over one-million dollars, it makes sense for me to go 1% too. I could have done it long ago and continued being the No. 1 Volume Broker as I had been for years, but the timing wasn't right. Now it is. For Sellers, I can match their fee, but humbly, nobody no active Broker can match my experience. That means protection for you. I can share with you the history of Trilogy and that of the mother company of Shea Homes Inc., the J.F. Shea Company. The competition can't; they weren't there. I was at the Grand Opening of the Cascade Club and the first to discover trees laying on the Tranquility Spa during the storm of 2006. I worked out of the Tour Center and unlocked and locked the model gallery at the start and end of each shift. There was no QFC or Sunrise Condos, only forest. There was no Starbucks, Three Lions or Mod Pizza, only the Cyber Café and the Nines, now the Crooked Spoon.
I know how to answer construction and infrastructure questions accurately, so nothing comes back to bite you. Buyer's General Home Inspectors aren't going to pull the wool over my eyes or make mountains out of mole hills, which will save you money and possibly your sales. I've crawled under a hundred plus resale homes, climbed into their attics and onto their roofs. I know the names of every floor plan forward, backwards or any way you want me to spit them out, even by the floor plan number. I know every room option that was available from the developer, how the Ports and Lakes Collections common walls are constructed, how the mesa walls were built, who's responsible for the landscaping or drainage on every street and can walk into any home and tell the owner what is standard, what was a builder upgrade and what they did themselves without them telling me a thing. More importantly, my heart is happy, giving you the best bang for your buck. My negotiations are friendly, methodical and will protect you, always turning over every stone and working for the best result possible. Elephants can't easily be pushed over. They are steadfast and rock solid. Hop on my back and I'll get you there.
Services this "Premium Service Broker" has to offer.
Managing Broker – Highest Real Estate License Available
First-Hand Shea Homes Construction & Infrastructure Expertise
Comprehensive Market Analysis
Complete Pre-Market Service Provider Scheduling
Complimentary Professional Staging Consultation
High-Definition, Magazine Quality Photography
4-Page Full-Color, Glossy, Fold-Out Flyers w/QR Code
Online Flip-Flyer to Capture Buyers
One-of-a-Kind Night Reflective Signage so Drivers See You!
Top Ranking Google Search Exposure on www.DevinSanfordHomes.com
Internet Presence on the NWMLS, Zillow, Redfin, Realtor.com & Many More!
Personal Premium Property Website for your Listing with Web-Tracking!
Featured Placement in the Monthly Trilogy Market Report
Survey System to Collect Showing Agent & Buyer Feedback
Referral Network of Packers, Movers, Estate Sales & Planning Experts
Accolades:
Serving Trilogy Since 2003 (19 Years!)
400+ Trilogy Homes Sold
Former Designated Broker & Lead Sales Representative for Shea Homes
Regional Trilogy Tour Champion & Recipient of Numerous Awards from Shea Homes, Inc., the Developer including Regional MVP
Former President of the Trilogy Ambassador Club
Two Decades as a Licensed Broker in Washington State – Since 1999
Certified Luxury Home Marketing Specialist _ CLHMS (Guild Member)
Proxio Pro – International MLS & Referral Program Member
World Properties.com Member "Home of the World's Best Agents"
Accredited Buyer's Representative – ABR
Zillow Five-Star Agent & Redmond Local Expert
Voted Five-Star Professional in Seattle Magazine 11 Consecutive Years
Recently, concerned member, David Aamodt included me in an email that went out to the Trilogy members' he had contact information for. He expressed concern that the lack of sales year to date may prompt the B.O.D. to initiate "another excessive increase in dues or special assessment".  Perhaps, my new business model will help take the edge of the increasing expenses we have all incurred of late; I hope so.
Four Closings for June. Here's what sold.
 
Model
NWMLS

Number

Square Footage
Original Asking Price
Asking Price When Sold
Final Sale Price
Dollars/ Square Foot
Days on Market
Percentage of Asking Price
1
Discovery
2071468
1350
$825,000
$825,000
$862,000
$638.52
2
104.49%
2
Madison
2070147
1810
$975,000
$975,000
$1,000,000
$552.49
1
102.56%
3
Whidbey
2128556
1680
$1,025,000
$1,025,000
$1,050,000
$625.00
1
102.44%
4
Maple
2058582
2380
$1,195,000
$1,094,000
$1,090,000
$457.98
30
91.21%
We're seeing homes move quickly for the most part. A healthy market is considered having enough homes to last four to six months before supply runs out if no new listings come on the market. Currently there is a five-week supply of homes in Trilogy which can change month to month in such a small area. Notwithstanding, it remains relatively steady in this still Sellers' market.
Again, my stomach turns a bit when I see the Madison and Whidbey were homes I've sold before. I'm going to point this out again only to show how my attrition to hang onto my conventional rate and stress my superior service was to no avail. One percent prevailed. Some Sellers benefited while others suffered. As I go 1%, I'll be offering the same service I always have, and my clients will continue to be ecstatic about their results.
Six Transactions Pending in Escrow & One Contingent
 
Model
NWMLS

Number

Square Footage
Original Asking Price
Asking Price When Sold
Dollars/ Square Foot
Days on Market
Mentionable
1
Orchard
2127100
1440
$827,000
$827,000
$574.31
6
Twinberry Way
2
Washington
2126727
1900
$879,000
$879,000
$462.63
120
Backs to TRR Parkway
3
Vashon
2128869
1568
$950,000
$950,000
$605.87
5
Modest Upgrades, Territorial View
4
Sammamish
2074341
1640
$998,000
$998,000
$608.54
4
Big Greenbelt Lot
5
Cedar
2073550
2300
$1,485,000
$1,485,000
$645.65
6
Lovely Greenbelt Yard
6
Monticello
2127236
2695
$1,825,000
$1,825,000
$677.18
9
17th Fairway
There are six contracts going through the Title and Escrow process working their way toward conveying the deed and exchanging the keys. You'll notice we're not seeing the crazy periodical seven to eight hundred dollars per square foot figures as often as we did during the past frenzy. That's good. We'll get there eventually but the more stable market we're seeing now is better for everyone. Although pricing in King County sits at about 6.5% less than the median record of $998,888 last year, residential properties have had nearly a 20% increase in the median sold price year to date.
The pending Washington is a home I've listed and sold twice in the past, representing both Buyers and Sellers each time. The lovely home backs to Trilogy Parkway which can be a little challenging as the 120 days on market indicates.
A little history…
…The Monticello is in a coveted location and is a special home, more special than revealed. Many of you have heard of or even visited the Seattle Street of Dreams Home Tour. These are innovative and elaborate homes for sale the public can tour for a nominal fee. They are built by the Northwest's finest builders and architects and visitors can vote on a variety of 'Best' categories such as kitchen, interior design, home technology, landscaping, architecture, master suite, etc.. Guests are transported from a nearby parking area, pay the fee, are given a thick, glossy brochure and can even grab a meal at the "Bistro Café". I was pleased to meet the founder of the Street of Dreams who paid the $10.00 to enter the LHT and admitted to me the featured homes were amazing, just smaller than the mansions of the Street of Dream homes, one of which I sold to someone who moved to Trilogy.
Trilogy at Redmond Ridge was the first community in Washington State to be developed by Shea Homes, Inc.. All or most of the marketing had been focused on the new Active Adult 55+ Resort Community called "Trilogy". Nobody really knew who Shea Homes was, although they were the largest privately held home builder in the U.S.A. at the time. With intentions of building more communities in Washington, Shea came up with an innovative idea how they could make the Shea Homes name more recognizable and came up with "The Shea Homes Luxury Home Tour" or LHT for short, and thousands visited. The Monticello is one of five sole homes that existed on NE 122nd Street or "The Double Bubble" as we called it. A quick right at the bend in the road where NE Adair Road becomes Adair Creek Way NE, and you could and can find that you can go left to one cul-de-sac of homes or right to another. If you went or go right, you'll find five Luxury homes on the most coveted Fairways in Trilogy, the 17th. There are no homes across the fairway making the lots exceptionally private and peaceful and there was no expense spared in high-technology, landscaping, fits and finishes or marketing of what Shea was capable of. There were no other homes that compared in the 1,523-home community of high-level spec homes or "Designer Homes" as we called them. Five of us "Community Representatives", a fancy word for salespeople, shuttled guests in our golf carts to the LHT. There was nothing but barked lots and white picket fences in the remainder of the double bubble lots, a Café Tent & Tables setup, money takers and tours. We worked hard to sell the luxurious homes that had as much as $700,000 in upgrades and sat on lots or "home sites" with premiums more than $400,000 which was unheard of in 2005.
In early 2005, the base price of Trilogy's largest spec floor plan, the Maryhill at a potential 3,581 square feet, had a base price in the low $600K range and a premium golf course lot with a mountain view ran between $150k and $225k on average. Through the Design Center, the buyers may have added 10% to 30% for the finished product. I sold the LHT Maryhill for $1,622,000 in early 2005, which remained the highest price for any Trilogy home until 2022. Prior to the LHT homes, no other home had ever reached a total price of seven figures in the community even if it was loaded with options and on the golf course. Five months after the LHT Maryhill sale, I was honored to serve John & Kae Tellesbo with the selection of a Maryhill on lot 209 of Division 8 (8209) which after the $185,000 Lot Premium and hefty Design Center upgrades became the first Trilogy sale to exceed a one-million-dollar purchase price. The Tellesbos retired to Arizona in 2014 and I took residence in the home until we sold it in 2017.
We won't know the final sale price of this "Pending", prior LHT home until it closes Escrow. There's always great value to the Seller in mentioning if the home they are selling used to be a model home and there's great pride in the new owner being able to share that with friends and family. We all knew when Russell Wilson was selling his home. This Monticello is way beyond a model home. Heck, people paid to see it in droves, yet I didn't see one mention of how special it is a former Luxury Home Tour residence in the otherwise decent marketing. Let's hope it panned out as well as possible.
Five Homes for Sale at Month End
 
Model
NWMLS

Number

Square Footage
Original Asking Price
Asking Price When Sold
Dollars/ Square Foot
Days on Market
Mentionable
1
Maple
2059355
2330
$1,488,000
$1,399,000
$638.63
45
Back on Market & now Pending Inspection
2
Hemlock
2128984
2170
$1,548,000
$1,498,000
$713.360
9
On the 12th Tee
3
Hemlock
2126186
2170
$1,579,000
$1,579,000
$727.65
17
Backs to Rockery on Greenbelt
4
Hemlock
2131153
2310
$1,598,000
$1,598,000
$691.77
8
Now Pending
5
Monticello
2129038
2678
$1,950,000
$1,950,000
$728.16
3
Lovely Home
There's nothing but high-end homes on the market. The median sales price of single-family home in King County is $935,000. During June, Trilogy's was $1,579,000 or $644,000, nearly 40% higher. Figures will change when smaller homes come on the market. The Hemlock plans belong to the "Forest Collection" and the Monticello is from the "Estate collection", all coming with standard three car garage parking and 10-foot ceilings.  It should be noted that homes over one-million dollars make up for 19.45% of the single-family homes sold in the county and those between $750,000 and one million are close at $17.41%. From $500,000 – $750,000 accounts for one-third of all sales shows living in Trilogy is far from cheap. It'll be interesting to see how these sales pan out. The Elephant marketed and sold two of these Hemlocks when listed in prior years.
Register to Read the Elephant's Trilogy Market Report at Our New Website!
          Check out the Trilogy Tab at www.DevinSanfordHomes.com.
Month over Month Stats:
Jan.
Feb.
Mar.
April
May
June
July
Aug.
Sept.
Oct.
Nov.
Dec.
YTD
YTD
$old
6
1
6
7
9
4
 
 
 
 
 
 
33
Pending
0
3
6
5
3
7
 
 
 
 
 
 
 
Active
7
4
4
4
2
5
 
 
 
 
 
 
 
$old D.O.M.
27
4
53
15
7
 

9

 
 
 
 
 
 
 
Active D.O.M.
44
57
3
17
40
 

16

 
 
 
 
 
 
 
Like the famous lyrics of John Denver, "Gee, it's nice to be back home again." Thank you so much for reading and my team and I hope you found something well worth your time in one way or another. More than reading, I need you to choose the best option out there, me. That will allow me to make sure you have the hardest working, most knowledgeable Trilogy Broker in the business and to afford to put these monthly reports and year-end reports in your mailboxes again. I'm sorry about the six-month vacation.
Just a reminder to look for these reports online first at www.DevinSanfordHomes.com. There's no pressure from me. Register and you'll receive an email notification that the monthly report is waiting for you, and you can read it before it reaches your mailbox.
Thank you, once more and have a fabulous Summer.
Devin (The Elephant)
Please, like Us on Facebook @ Facebook.com/DevinSanfordHomes.com
Did You Know the Elephant Serves Snohomish County too?
MY HOMETOWN STOMPING GROUNDS
I'M BORN AND RAISED IN THIS AREA AND LOVE IT!
It was mostly trees when I grew up in Lynnwood where we rode our sleds down 196th Street and my childhood home is now Wells Fargo Bank, and our motorcycle riding grounds are the Alderwood Mall and an array of businesses. I grew up in the Edmonds School District and went swimming at Mukilteo and Edmonds beaches, lived in Woodinville and ran Track for Monroe then graduated from Inglemoor High School in Bothell. As an adult I've lived in Everett, Mill Creek, Monroe and on Lake Stevens. If you or someone you know needs a Snohomish County Expert, I'd be delighted to hear from you.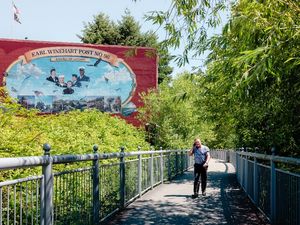 Joyfully Serving
King and
Snohomish Counties
Since 1999.
Award-winning real estate agents in greater Seattle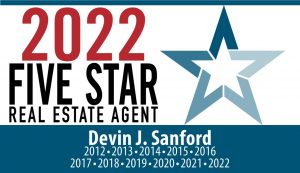 Five Star…the definition of professional excellence
This award represents ½ of 1% of all Real Estate Professionals to have won this award for 10 years.
Find Devin's 11th Consecutive Five-Star Professional award in SEATTLE Magazine's December 2022 Issue.