Presented By Devin Sanford Homes
"New Homes, New Friends and New Beginnings"
…If You Want Top Dollar, Clean Is Not Enough.
…Now Is Not the Time for Less than Individual Attention.
… The Elephant's History with Trilogy and Shea Homes, Inc.
October Emulates September's Seven Sales
Model
NWMLS Number
Square Footage
Original Asking Price
Asking Price When Sold
Final Sale Price
Dollars/ Square Foot
Days on Market
Percentage of Asking Price

Union

19855681

 

1,510

$

975,000

 

$939,900

$939,900

$622.45

 

30

96.40%

Bainbridge
1989428
1,870
$1,185,000
$1,185,000
$1,185,000
$633.69
1
100%
Hemlock
1993727
2,305
$1,388,000
$1,250,000
$1,265,000
$548.81
76
91.14%
Maple
1970938
2,520
$1,549,000
$1,519,000
$1,440,000
$571.43
71
92.96%
Maple
2001162
2,575
$1,495,000
$1,495,000
$1,450,000
$563.11
105
96.99%
Monticello
1942175
2,695
$1,425,000
$1,600,000
$1,500,000
$556.59
57
105.26%
Hemlock
1983864
2,170
$1,695,000
$1,695,000
$1,565,000
$721.20
29
92.33%
Lucky seven strikes for the second month in a row although I'm not sure how fortunate those sales were. Five homes closed escrow at an average price concession of more than 6% less than the asking price and over two months on the market. An upgraded Bainbridge nestled on a Sunbreak Way greenbelt sold for the exact asking price in a matter of hours, which indicates someone was laying in wait. Only one home sold over the "original asking price" but did it really? The Northwest Multiple reports the golf course Monticello home was first listed for $1,425K on June 1st and quickly went under contract only to have the sale fail five weeks later. The listing agent reported the "buyer failed to perform on the day of closing". It came back on the market tacking on another $320K to the asking price, then at $1,745K. Nearly a month later, the price was reduced to $1,600K and went under contract once again on September 1st. The final price at closing mid-October ended up at $1,500K. I'm not sure whether to scratch my watch or wind my rear end.
Pending Sales Stand Stern at Six
| | | | | | | | |
| --- | --- | --- | --- | --- | --- | --- | --- |
| Model | NWMLS Number | Square Footage | Original Asking Price | Asking Price When Sold | Dollars/ Square Foot | Days on Market | Comments |
| Washington | 1986838 | 1,900 | $686,397 | $686,397 | $361.26 | 66 | ARCH Restrictions Apply |
| Townsend | 1985724 | 1,330 | $825,000 | $769,950 | $578.91 | 64 | Twinberry Way fourplex |
| Washington | 2000304 | 1,900 | $950,000 | $950,000 | $500.00 | 14 | Greenbelt |
| Maryhill | 2005645 | 3,360 | $1,798,000 | $1,798,000 | $535.12 | 14 | Golf Course by Clubhouse |
Four homes were under contract at month end. The Washington plan falls under the King County Coalition for Affordable Housing guidelines and restrictions. However, since the home did not sell within 60 days, the income and occupancy restrictions have now expired. However, other restrictions still apply, and the buyer must be approved through
A.R.C.H..
---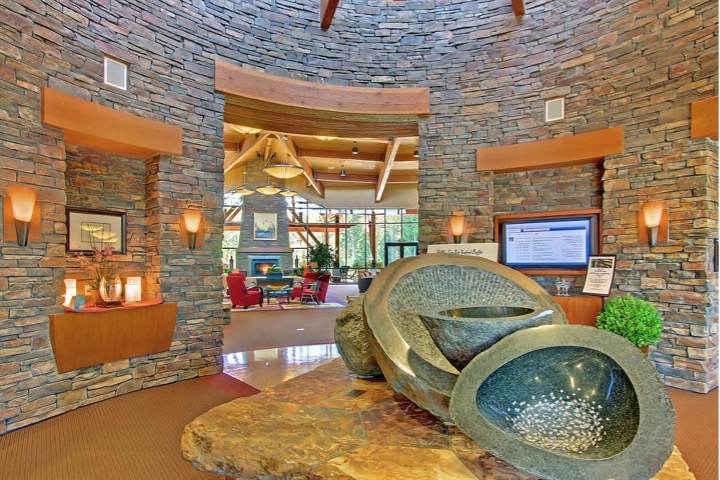 ---
Six for Sale Seek Suiters
| | | | | | | | |
| --- | --- | --- | --- | --- | --- | --- | --- |
| Model | NWMLS Number | Square Footage | Original Asking Price | Current Asking Price | Dollars/ Square Foot | Days on Market | Mentionable |
| Chelan | 2012751 | 1,295 | $799,000 | $799,000 | $616.99 | 1 | Backs to Mesa Wall |
| Discovery | 2009648 | 1,365 | $925,000 | $925,000 | $677.66 | 13 | Greenbelt Homesite |
| Bainbridge | 1998170 | 1,824 | $1,125,000 | $998,000 | $547.15 | 41 | Reduced $127,000 |
| Bainbridge | 2011906 | 1,870 | $1,000,000 | $1,000,000 | $534.76 | 4 | Sunbreak Way Greenbelt |
| Vancouver | 2012862 | 1,930 | $1,100,000 | $1,100,000 | $569.95 | 1 | Territorial View/Upgrades |
| Vancouver | 1992241 | 1,920 | $1,495,000 | $1,495,000 | $580.58 | 49 | $155,000 Price Concession |
NOTE: Figures and statuses are as of Halloween, 2022, for month over month comparisons. The number of
homes for sale will change by the time this market report has been processed to you.
Clean is not Enough
Two Island Collection homes gave significantly large price reductions. It's not so coincidental they make up for the two longest number of days on the market, averaging exactly six weeks between them. Staging and proper pricing out of the gate are key elements to a successful sale. One of these homes is staged nicely and the other is stark white and empty. This can feel colder and of less value to most buyers who don't have that eye for color or design. Most shoppers need someone else to create warmth and a feeling of home for them. Staging is worth a few thousand bucks, especially if you're making mortgage payments on a house that sits for a month or more. A penny saved is not a dollar earned, but five or six figures lost.
Trilogy Sales Over the Last Decade
| | | | | | | | | | | | |
| --- | --- | --- | --- | --- | --- | --- | --- | --- | --- | --- | --- |
| | 2012 | 2013 | 2014 | 2015 | 2016 | 2017 | 2018 | 2019 | 2020 | 2021 | 2022 |
| Resales | 87 | 103 | 99 | 102 | 120 | 104 | 102 | 78 | 99 | 105 | 57 |
| Shea Homes New Construction | 10 | 9 | 3 | | | | | | | | |
| Total $old | 97 | 112 | 102 | | 120 | 104 | 102 | 78 | 99 | 105 | TBD |
Final Thoughts
We all know the market has changed. 70% of October's closed sales sold significantly below their initial asking prices. This is right in line with what the National Association of Realtors reports when sharing that 70% of the listings across the U.S. have reduced their asking prices. The market is adjusting, and Sellers and their Brokers must be on top of it every day. There's an old saying, "Greed creates need" and it's true. This doesn't mean it's a terrible time to sell your home; it only means pricing requires due diligence in finding meaningfully significant relevant recent sales and pricing your property in line with them. There's no need for big price reductions if you price and present correctly. Sadly, far too many don't. I've been in a market like this before and found great success in Trilogy and out doing it right. Done that way, you can still create competition for your home.
You Deserve Your Listing Broker's Full Attention
This is not the time for discount brokers who spread themselves among too many clients while taking the path of least resistance or as a wise Trilogy member said to me, "The path of lease persistence". Sellers deserve a Listing Broker who takes the time to carefully study other relevant sales, walks the home and makes notes of any details that might distract from the asking price and addresses them beforehand. Something as simple as a mossy driveway or sidewalk, and we've seen too many of those, giving a bad first impression.
Offers with inspection contingencies are becoming normal again and buyers are benefiting from more choices in inventory and less competition. If you want your deal to stick, you'll want a short punch list and a listing broker who knows what to look for; someone who knows the Trilogy construction inside and out. There is a reason, in 23 years as a licensed agent, I've never had a deal fall out of escrow and very few brokers can say that. Pre-emptive repairs are a big part of that. You don't want an inspection causing your Buyer to back out. Will the agent you chose to represent you know what to look for? If something is found, will he or she know how to work around it? Can they calm the buyer down and hold things together? I walked many of the lots before the trees fell, participated in the construction of the homes from standing in muddy foundations to instructing final designs on the landscaping before the new construction for sale sign went in the ground. I know how they're built; having helped build most of them along with my team. As a resale agent, I've worked through numerous sales holding them together when I knew it wasn't likely anyone else could have. That's the type of protection a seller deserves, and it makes me feel good that you're taken care of when we work together.
Don't be fooled by discount brokers who take the path of least persistence. A wise man once said, "You don't take percentages to the bank…you take real dollars." Give me a call and I'll help you do just that.

About the Writer and the History of his Trilogy Beginnings
…Who is Devin Sanford?

Recently a friend in Trilogy raised my awareness of something I hadn't really thought about deeply enough. I've often been accused by friends and family of being too generous and giving too much of myself. Is that a bad thing, I don't know? I've always believed in the Golden Rule, and you can't be too honest or generous. I had been reporting the numbers for many years but only thought of reporting the data. I didn't really think of how the time that has gone by while I've been drafting these reports month to month, year after year, has affected my business. I only wished to serve. He pointed this out and I owe him thanks. David has kept my reports for years and occasionally asks me specific questions because he keeps track of the neighborhood data. What he enlightened me with was this statement, "When I look at your industry and the Trilogy market, about 100 homes a year have been selling. So, since we moved here in 2011, that means that about 75% of the homes have sold at least once. There are so many homeowners here that do NOT know your history with Trilogy, even though you were the pioneer who blazed the trail."

I don't like to talk about myself yet it's a necessity in this business. That's the thing that's most difficult in this line of work to me, selling. That's a huge reason I have loved Trilogy, the fact that I didn't have to sell myself here, I could just serve. As humbly as I can say, it seemed like everyone knew me or, at least had heard of me and I didn't have to sell because homeowners just called me; I was the well-known premier expert. My market reports didn't used to have self-promoting copy or any of that. I shared the data and my observations and forecasts and that was it, my phone kept ringing. I must admit, David is right, time and turnover have changed things and most of you don't know my history.

In the interest of offering you the best protection, allow me to introduce myself. Hello, I'm Devin Sanford, a.k.a. "The Elephant". In 2003, I was a top agent with Windermere in Snohomish when a new agent arrived late for the Monday morning meeting. There were no chairs, so I gave her mine and she was introduced to the group. It wasn't but a couple of weeks that she told me she was leaving because she'd been hired by Shea Homes and was going to work at Trilogy. She said the developer wouldn't permit her to have outside clients and she asked if I'd take over her last couple of customers. I did so, put together a couple of deals, turned them into escrow, we got paid and that was that.

Soon after, she began to strongly encourage me to come check Trilogy out. I was hesitant. She had told me they were interviewing but I shared I was happy where I was. She was super excited that the Cascade Club was nearly completed, and she invited me to attend the Broker's Open House for the Grand Opening. I have a hard time saying no so I did agree to come to the Open House. She was excited to see me and gave me the grand tour of the club, the models, the Tour Center and just happened to stroll past the Manager's open office door. He invited me in, and she excused herself, sneaky as she was. The gentleman was a big man, dressed all in black, like Johnny Cash. He asked if he could tell me about the concept. I thought to myself, how can I say no to something I knew nothing about, so I agreed. I was impressed with the concept of "New Homes, New Friends and New Beginnings" for Baby Boomers. He asked if I'd be interested in joining the team. I was not impressed with him. He delivered the concept well but didn't speak kindly about the sales team. That didn't sit well with me. I shared this was all new to me, but I'd think about it.

It wasn't a day or two when a lovely lady in charge of the Cascade Club called saying she'd love to talk to me, as well. Again, I was hesitant, we've all been worked over before, but she was so pleasant and again I thought, how can I decide about something I knew truly little about, so I agreed. She was quite a bit older than I, refined and humble; I was impressed. I returned home becoming more aware that I was being interviewed. I wondered what it would really be like to punch a clock; I'd been my own boss for so many years.

Next, ring, ring, it's the big cheese of the Tour Center calling to line up a visit with the Foreman of construction. I was flattered by their efforts. The suits slightly intimidated me, but I could relate to a rough and tumble construction boss, so I agreed. I met him at the construction office, and he was just what I imagined, stocky, plaid shirt, rough hands and down to earth. He had several pages of questions stapled together that he was supposed to ask me. He asked the first two or three and I answered them. Soon he said something like "forget this", use your imagination, dropped the papers on the table and said, "Let's go for a ride and I'll show you around". I liked this guy. We got in his truck and drove through the development. It was exciting to see the different stages of tree clearing, excavating, foundations and framing. I grew up in construction and around construction materials. Shoot, we got to drive through a big tire wash trucks were required to go through, so they didn't sling mud on the streets, and we got to see a six-million-ton pile of dirt! I was in. To make a long story short, two more interviews with the Superintendent of Construction and the Regional V.P. and I was hired as the new Community Representative, a fancy word for Real Estate Agent for the Developer.

There had been a new canned tour prepared on numerous CDs that each Community Representative was to study, learn and present to visitors. The idea was to be the Nordstrom or Ritz-Carlton of the new homes industry, you got the same presentation no matter which Shea Homes community you visited. There was only one problem, the program was brand new, and nobody had learned it yet. My interviews revealed my teaching background and guess what newbie was assigned to teach this colossal tour to five type A personalities at TRR. Oh, did I mention that while our V.P. was out working on land acquisitions, the Manager from Arizona was coming in a day or two a week to check on us? You see, Johnny Cash was fired the day before I was thrown into the bullpen with five blood-thirsty sharks who were very jealous because I was on salary washing my car at home with the Sony Discman CD Player on my head learning this library of material for two weeks. Eventually, across the nation, every Shea Homes tour was the same, or supposed to be. Soon I was flying to Arizona to be part of the Shea Homes Sales Quest Tour development team.

Like many sales situations, there are monthly sales awards, big contest awards and then the big, big awards. I won plenty of salesperson of the month awards, even during my first full sales year of 2004. My second year of 2005, I was honored to be awarded the Grand Kahuna of the big, big awards called the Golden Gate Award. The top Community Representative from each community, age restricted or not, were invited to an all-expense paid three days trip including an awards banquet and a luxurious suite at the Venetian in Las Vegas.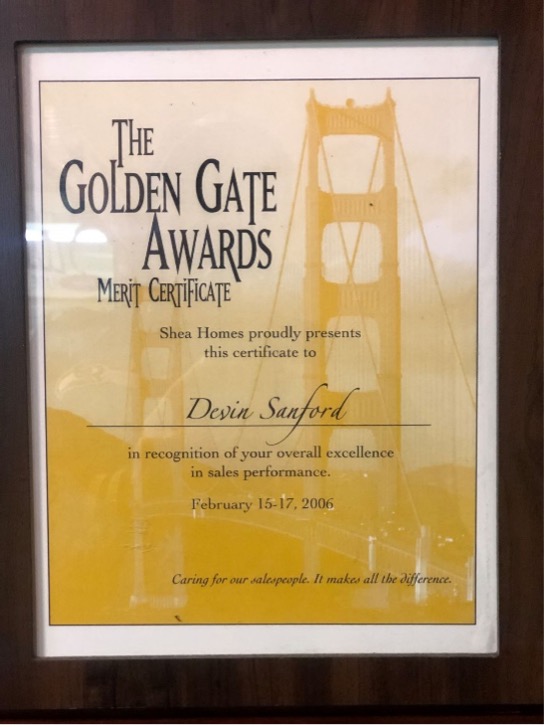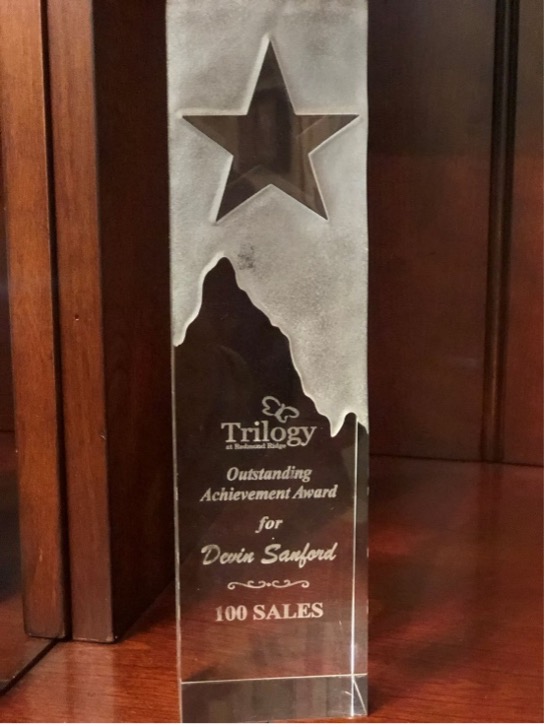 Awards were given for the overall best performers in a few categories. Yours truly walked across stage to receive the award for highest Guest Tour scores which they dubbed "The Best Mystery Shop". Hired shoppers wore small cameras hidden in their glasses or a broach, the films were reviewed, and scores of boxes were checked to see if certain scripts were said or not. For those of you who didn't know, The J.F. Shea Company, who signed our paychecks, built the piers and the uprights for the Golden Gate Bridge, thus the Golden Gate Awards.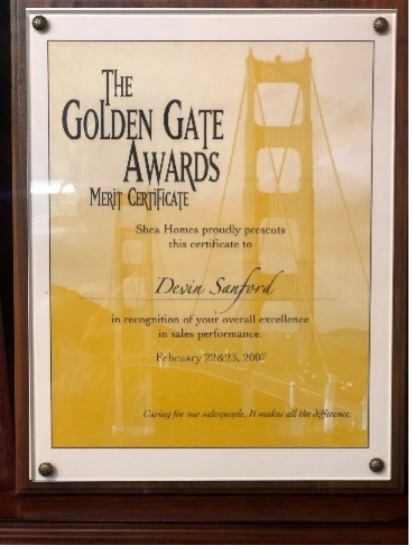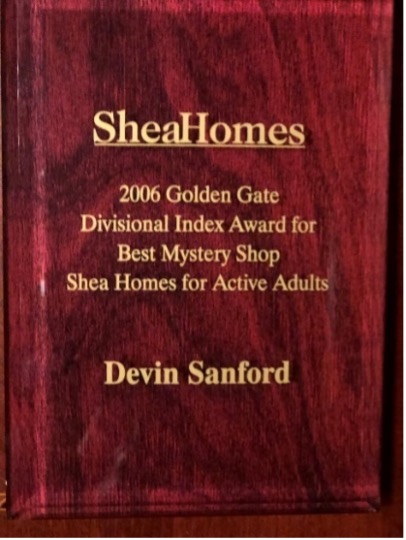 2006 was a repeat was a repeat win with a stay at the lovely Newport Beach Marriott Hotel & Spa.
During 2007, Shea decided to hold an Ultimate Closing Championship. Although I was ill and missed the first few days of the contest, I enjoyed the winner's spoils with my wife all-expense paid as guests at the Montage in Laguna Beach where a pot of coffee cost enough to fill your Ferrari with gas. We had rented a Lincoln and felt embarrassed at the Valet. Okay, you get the idea; I was dedicated, a collaborator and doing well.
Such is life…I had lost my best friend and Karate Shihan (Master) suddenly during November of 2006 then my sister passed surprisingly the following May and on Thanksgiving day 2007, my Mother lost her battle with cancer. It was too much for one year and I needed a break. I had bought a smaller home in Birch Bay Village to take care of my Mom while she was ill. She had lived a short walk away in the same village. I could sleep there before driving home to work at Trilogy early in the morning and returning after work to make her supper and clean up. After she passed, I kept the home but could stay in my base property near Trilogy during the work week once again. On my days off, I enjoyed putting my toes in the sand, wading, crabbing, biking, playing tennis, fishing, etc… I was doing fine at Trilogy, but I needed some time to mourn, and I took it. Management reluctantly accepted my resignation.
I helped my wife open a chic gift and wine shop near the Peace Arch in Blaine. When not ordering wine or staging the store, I exercised, tinkered, and planned. After a year or so, I decided to sell my home down south and move to Birch Bay full-time. Then the Crash of 2008 really hit, and things came to a halt everywhere, including Trilogy. Sales had gone from 20 or 30 plus a month to one or two and sometimes none. Wouldn't you know it, I had just moved all my furniture and belongings up to the weekend home to live permanently when again, ring, ring. It was the Regional V.P., whom many of you know, and the V.P. of Sales for Shea Homes, Inc. nationwide on a conference call. I knew them both well and they needed help. "What are the chances of you coming back?", they asked. I said, "About 35 percent". "What would it take to make it 100 percent?" they inquired. I told them I'd have to sleep on it. We had a store 120 miles away, my base home was empty and being prepared for sale and, most importantly, I had a wife in Birch Bay so it would have to be one heck of a compensation package. Prepared to respond with requirements as to what it would take for me to move back, I answered the phone the next day and shared my wants. Frankly, we felt there was no way my requests would be accepted, and we'd be off the hook. "I'll call you back", the Regional V.P., said. A few minutes later I got the call, "You start Monday." I was the new Lead Community Representative, became an Assistant Secretary of Shea Homes, Inc. and signed on with the State and the Northwest Multiple Listing Service as the Designated Broker for Trilogy at Redmond Ridge and the new homes were sold under my license.
I didn't intend to write a biography so now that I've shared my beginnings with Trilogy and Shea Homes, Inc., allow me to share the truly rewarding part, switching back to conventional real estate to help as many Trilogy Buyers and Sellers as I could manage. I had returned to what I was doing with Windermere years ago, only focused on Trilogy as I am to this day. At the time, I had nearly 200 new construction sales under my belt which is why I chose www.DevinSanfordHomes.com as my Real Estate Website URL; a good number of members had used my services to invest in their Trilogy home and would recognize my name. I stopped counting my sales in Trilogy after about 400 new and used transactions. There are 1,523 houses in Trilogy, so I've sold about one out of every four at one point or another, some as many as three times.
It was November of 2009 and had been about a year since my return to the Tour Center. It was still going to be a long time before we all recovered from the mortgage crisis. Things were terribly slow in the Tour Center; the staff could manage things without me, and the residents looking to sell their homes needed knowledgeable help. I sold the last home in division three back in 2004 and now we were wrapping up division 10. I had heard a lot of inaccurate information from real estate agents and members about anything from home construction and infrastructure processes to Design Center selection processes, rules, and regulations. Members and potential new neighbors were confused, and some decided to look elsewhere, which was a shame. Trilogy was the first resort community of its kind in Western Washington and although Redmond is considered the Eastside, RE Brokers had no clue it even existed or what it was. They certainly didn't understand the intrinsic value of living the Active Adult Lifestyle and there hadn't been a reasonable number of resales yet, it was early on. Therefore, resale Brokers were pricing homes incorrectly. There was no QFC Shopping Center, no Reunion apartments, only forest. TRR was considered Siberia. "It's so far away", guests would say.
Shea did terrific marketing by inviting qualified people from the area to meetings at the local hotel to get their input and build rapport prior to beginning to build the golf course, amenities, and homes. It was common to have radio show hosts in front of the Tour Center and expensive advertising on television, bringing hundreds of guests over the weekends. They watched a lifestyle movie, got a tour of the Cascade Club and the Model Gallery from a Community Representative, then took a ride in a golf cart to pick out a spot for their favorite floor plan. It was a blast. We were so busy, we decided to have a banquet for many of the more established members and asked what they thought of being Ambassadors to help us with the first stages of the tour until a Community Representative became available. Members raced to the sign-up sheet, acquiring 46 new Ambassadors in a matter of minutes. The likes of Jim and Ivene Morris, Dick and Teri Bowne, Rod and Destia Hermes, and so many others did a stellar job greeting, providing coffee and snacks, touring and guests got it straight from the horse's mouth. They were champions, the guests loved it and the members were excited to share their experiences in Trilogy with others. We formed a small board of employees to determine how we were going to organize and what would be the protocols. I was nominated President of the Ambassador Club and was honored to take the roll. One of the first things we did was decorate and dedicate their own Golf Carts to tour with. Ambassador was sprawled across the windshield, and they drove them with pride. They were a huge asset.
Lots were being sold in lotteries after the developer had released sections at a time and only so many for each floor plan or collection of homes. Deposits were required to participate in the lottery where the buyers' names, desired lot number, and floor plan were written on ping pong balls. Some had two or three or more balls, ensuring they'd purchase whichever one they ended up with. Some traded with others, and some ended with none, only to return and try again at the next lottery or the one after that. It was exciting for most and disappointing for a few, but Shea was thriving prior to the crash.
There was one problem, curious real estate broker visitors were loathed by the sales team. They didn't want to waste their time talking to them or educating them. They wanted to talk with prospects directly. Instead, when one strolled to the Kiosk seeking information, the Community Reps hid. I saw some crouching under their desks. I couldn't believe it. I was different and wanted to build a relationship with other Brokers who could bring me their Buyers only they reported to me that there was no commission offered to them on the Northwest Multiple Listing Service. In fact, Trilogy homes were not listed on the NWMLS at all. Shea did have a commission program for Buyer's Brokers but how were they to know about it and there were around 7,500 licensed brokers on the Eastside alone, there were over 20,000 statewide. Shea relied totally on their own advertising budget and word of mouth. I was dumbfounded and asked to speak to the Sales Manager. I convinced him to expose our spec homes, we called Designer Homes, and new construction homes on the NWMLS and to offer a 3% selling office commission to a Buyer's Broker. It could be built into the asking prices and wouldn't affect the CRs compensation. It was a hit and yours truly was the reason Trilogy homes were now on the multiple, increasing our sales.
Back to 2009…I decided I was more useful setting things straight and maneuvered my way out the corporate door for good. I had sat down next to Bill Young, the owner of one of the oldest Real Estate chains in the area, while having a light lunch at Canyon's restaurant in Monroe. On thing led to another, I hung my license at Preview Properties, Inc. and began to send out the "Original Trilogy at Redmond Ridge Market Report" to clean up a lot of the misinformation and to begin listing homes in Trilogy "The Elephant Way". That began with proper preparation and a pleasing presentation. Since I had only a couple of vendors lined up yet, I found myself cleaning off many roofs and gutters, pressure washing siding and driveways, washing windows, cleaning debris from garages and crawl spaces, patching holes, performing minor repairs, staging, hiring photography, creating four-page color brochures, and hanging the for sale sign out front. Doing it the Elephant way continued with powerful promotion, including advertising homes for sale in my market report and I stamped it with proper pricing and not apologizing for the price.
There were 21 floor plans among five collections of homes at the time, and none of the resells had consistency in what was being asked for them. Many of them were overpriced or underpriced. Using my listings and my market reports, I set out to change that. I had years of experience working with new construction prices, the value of upgrades, assigning of lot premiums and had worked in the real world selling for Windermere. I knew both sides of the fence. I helped with redline changes on the existing blueprints and the design of the Lakes Collection models in the Annex Gallery on Sunbreak Way. There were two or three resident Brokers at the time dominating what resales there were through neighborhood contacts and Cascade Club activities and clubs but there were enough listings to go around. I got along well with the other Brokers, including hugs and polite dealings. It was fun, amicable and competitive.
There is much more history, but the bottom line is that over time, proper pricing, and others emulating what I was doing, or at least trying to, helped to establish some base of pricing for each floor plan. I wrote about it many times years ago as the basis evolved, first for the Bainbridge, then the Whidbey, then the Union and so on. Eventually even the Estate homes gained a basis. Then, it came down to location, fits and finishes and proximity to the social hub. It took time. With better staging and marketing, I pushed the asking prices as high as the market would allow and Buyer Brokers nor appraisers questioned my expertise. We could never control what everyone was doing but eventually, consistent pricing and sensible appreciation prevailed. Less than a handful of other resident Brokers caught on and we helped Trilogy resales in the right direction together. Almost all of them have moved on.
My market reports have included tables from the beginning that share the names of each floor plan sold. This is purposeful so that each reader can follow how their own home was doing in the market. When they were ready to sell, they knew who to call and now you know.