Compliments of Your Neighborhood "Premium Service" Realtor Devin Sanford
Listings Hit Zero for First Time Ever!
Sellers Marching Toward April Showers.
Pricing Likely to Hit All Time Highs.
| | | | | | | |
| --- | --- | --- | --- | --- | --- | --- |
|   | Model | Original Asking Price | Asking Price when Sold | Final Sale Price | Days on Market | Northwest Multiple Listing Number |
| 1 | Chelan | $465,000 | $465,000 | $465,000 | 6 | 1086902 |
| 2 | Bainbridge | $789,000 | $759,000 | $759,000 | 35 | 1049029 |
| 3 | Maple | $798,000 | $798,000 | $798,000 | 69 | 1071218 |
| 4 | Hemlock | $975,000 | $975,000 | $1,057,500 | 2 | 1069879 |
 Homes in Bold & Green; the Elephant serving Sellers and Buyers, Respectively!

In my daily and often hourly analyzing of Trilogy sales data since 2003, I have never experienced a time, no matter how brief, that there were zero homes on the market. On March 22nd, an over-priced, poorly presented home decided to pull off the market leaving zilch homes for sale in Trilogy. It was noticed by several of my counterparts. We're all working in one of the strangest markets we've ever seen. The shortage of inventory suggests that there may be no end to the madness in price hikes, regardless of interest hikes. Common sense tells me that the market is about to flood with listings as we all know this is the strongest Sellers' market our region, and possibly the country, has ever seen. For many weeks running, Seattle is the highest real estate appreciation city in the USA. It can't last forever but one thing is for sure; if you snooze, you lose.
In the meantime, we have a Mountain View Hemlock that has blown past the million-dollar mark. It's an opulent home with very nice upgrades, as well. They include lavish hardwoods, elaborate appliances, tons of built-ins, real wood stained doors & trim and more. It's proof again, too, that décor sells. Over $457.00 per square foot typically represents a custom home. I think it represents buyers hungry for an elegant home that's available.
The Bainbridge came on the market in November and took a shot at raising the price as there was no competition. There was also, little traffic. It was taken off the market December 1s and quickly sold at the originally recommended price 9 days after becoming available once more in January.
Sometimes décor can kill you. 69 days on the market created an open opportunity for my Buyer who could see the forest through the trees on the lovely, now vacant, Maple.
Five Homes Await Close of Escrow
            Here's What's Currently "PENDING" and Waiting for Recording Numbers
| | | | | | |
| --- | --- | --- | --- | --- | --- |
| | Model | Original Asking Price | Asking Price when Offer Accepted | Days on Market | Northwest Multiple Listing Number |
| 1 | Washington | $579,950 | $579,950 | 5 | 1086556 |
| 2 | Bainbridge | $719,000 | $719,000 | 10 | 1076000 |
| 3 | Maple | $835,800 | $835,800 | 8 | 1081521 |
| 4 | Cedar | $925,000 | $925,000 | 2 | 1087309 |
| 5 | Cedar | $999,999 | $999,999 | 1 | 1075988 |
* Home in Bold & Green; the Elephant serving Sellers!
Outside Market Finally Has a Foot in the Door as to How Some Sellers Strategize
In recent years, many new listings in several counties have begun to hold offers off on properties for a future date. The home is prepared, photos are take and the home appears available to over 21,000 Washington State Brokers and, ultimately, their Buyers. The home typically comes on the market on Wednesday or Thursday, an open house or two is held on Saturday and/or Sunday and the agent comments say that the Seller will be collecting offers and deciding on a specific date and time after the weekend. Many times, buyers are encouraged to facilitate and pay for a professional home inspection prior to making their offer. This often results in an offer not subject to inspection making the offer more appealing to a Seller. The waiting period, also, gives the Listing Broker time to work the price up working one Selling Agent against the other. It's called a bidding war, that's meant for younger folks seeking good schools for their kids and us Baby Boomers and Silent Generation don't play that game, or do we?
Well, we didn't used to. Until a few weeks ago, that game had only entered Trilogy two or three times with little to no success. Those days are, at least temporarily, over having been played an equal number of times in the last two weeks. An arm's length negotiation between a willing buyer and a willing seller is my style but even I have had to change my paradigm. I've done it twice this year; once inside of Trilogy and once within and both resulted in bidding wars and happy Sellers. Bidding wars in Trilogy, by the way, are not twenty or thirty written offers but have grown from two or three offers competing to a few more but I fear it's going to get worse. When it does, it's only a matter of time and appraisals will come in low, deals will fall apart and that old bubble will burst once more. Where you and I will be is something we should give some thought to.
BTW, this strategy does not work for everyone. If you are pricing an upper end home at the top of the market, don't expect a bidding war. Other unique factors about your home may negate the hopes of a bidding war so, again, it's imperative that your Broker knows one home or lot from another in this unique Active Adult Community. Bidding wars outside have strategically started by pricing the property at least 5% below fair market value to create excitement and addictive gambling to win the home.
500% Increase Raises Up Five Homes for Sale
| | | | | | |
| --- | --- | --- | --- | --- | --- |
|   | Model | Original Price | Asking Price | Days on Market | Northwest Multiple Listing Number |
| 1 | Vashon | $675,000 | $675,000 | 2 | 1097361 |
| 2 | Alder | $809,000 | $809,000 | 10 | 1077508 |
| 3 | Monticello | $995,800 | $995,800 | 1 | 1098733 |
| 4 | Maryhill | $1,098,500 | $1,098,500 | 2 | 1097538 |
| 5 | Maryhill | $1,150,000 | $1,150,000 | 4 | 1092440 |
Note: All currently available listings are posted at www.DevinSanfordHomes.com on the home page. Hover over the Trilogy tab and select "Current Trilogy Listings" from the dropdown list. For all listings, click "View all Trilogy at Redmond Ridge Listings." Within this report, we share what is available at the first of the month for consistent and measurable month over month reporting.
Okay, come on…This takes a lot of time; surely you can allow me one bad lead in? I just wonder who's going to challenge my math that zero times five is still zero.
Quick observations? I'm wishful for the Vashon. The Alder has a good agent and they're typically a slower sell but it's not presented poorly, is a lovely home and is close to the club. I expect it to go soon. I'm curious how my fellow Maryhill residents fair and I wish them well.
This is not our Grandfathers' Oldsmobile
   Why does pricing vary so greatly for your floorplan?
Last year I earned the business of a Seller who had the help of her incredibly innovative and successful daughter to interview and seek the right Realtor. She approached me via email and was very candid that she was interviewing others. I encouraged it. Her email was simple asking three questions. One: "How many homes have you sold in Trilogy in the past two years?" Two: How do you differentiate yourself from others in this market?" and Three: "What is your strategy to market a Vancouver model home?" My first thought was that these were great questions and the first two were a piece of cake for the Elephant. Although I answered more eloquently and provided proof, the answers in a nutshell were; I sell more and provide more service than anyone else. The latter leads to the former. The third question was not that easy and, if I was going to answer it accurately for the daughter of this well-known Cellist, I was going to have to type a bit.
You see, no two Vancouvers, or any other floor plan for that matter, are the same thus each property must be evaluated and marketed to its best advantage. Just as you and I are not the same, a Vancouver, or any of the 23 Trilogy floor plans, should not be thrown into a stereotype which could incorrectly price the home. Starting with Vancouver 101, I shared the general feedback I've received over many years of the positives and negatives, in general, of the plan. My intimate relationship of the blue prints aided in my three-paragraph answer. I'm not privy to how others answered but I'd guess it was brief. My response took three in-depth paragraphs to answer question number three.
The message here is, to maximize the sales price of any home in Trilogy, the Elephant works to truly understand several things: What is the proximity to the Cascade Club? What is the topography should we experience snow? What is the level of fits and finishes? How much privacy does the home enjoy? What is the condition of the home? Is there a view? Is it on the Golf Course? Have the lawsuit concerns been addressed? Does the home sit above or below a wall? What is the potential for effective staging which affects impactful photography? How much sun does the property get? What asking price would push buyers into a larger floor plan and away from your home? There are a few more.
The bottom line to my answer to question number three was, "Ms., If you want to maximize the proceeds for your Mother, your Realtor needs to know who he or she is marketing to and they can't do that if they don't know the intimate features of your home, location and orientation. If they don't know those things, how can they possible direct marketing to the Buyers who would most be excited about the home. It's called target marketing. What you write in your copy for features, how you touch emotions and the way you present the property makes all the difference. If you hit the center of the target, those are the people who will pay the most and they'll be delighted with their own decision to purchase. People don't argue with their own data. Hire someone who can excite them and they'll have their buyer's broker let them in the door.
Here's a Recap of Year-to-Date Sales:
| | | | | | | | | | | | | |
| --- | --- | --- | --- | --- | --- | --- | --- | --- | --- | --- | --- | --- |
| | Jan. | Feb. | March | April | May | June | July | August | Sept. | Oct. | Nov. | YTD: |
| | | | | | | | | | | | | |
| $old | 6 | 6 | 4 |   |   |   |   |   |   |   |   | 16 |
| Pending | 9 | 3 | 5 |   |   |   |   |   |   |   |   |   |
| Active | 2 | 3 | 5 |   |   |   |   |   |   |   |   |   |
RCA on You to Paint?
If so, call the Paint Rangers, Pronto! It's what the Elephant does. In fact, I've been using these guys on my own residential and commercial properties for years. They do a sensational job and they are in and out like the Wind. Owner and still Painting, Brad Johnson, knows his stuff and he'll crack you up with his sense of humor and easy demeanor. He has paint schemes flying out of his holster and he's a crack shot. Most of his guys have been with him for over a decade and he's still on the job after forty years.
I don't know how he predicts the weather. I guess it's his job to know. Last Monday, they got the body of a Trilogy home painted on a Monday and the trim early Tuesday. They were nice days, the paint dried and it poured on Wednesday. How do they do that? In warmer weather, it would have taken only a day. I showed up at 7:30 AM to check if they were there and masking and painting had already begun. It was a small house yet there were three trucks and six guys all over that home like a hobo on a hot dog. It's their typical M.O… The price was great, like I've experienced for 30 years, the Seller was elated with the work and they were off with a mighty "High Ho Silver and Away."
Give 'em a shout! I don't stand by many, Kemosabi. Please, share your experience with me.
That's a wrap for March. We hope these facts have been helpful. We measure our success by how well we serve others. If you have a real estate need, just let us know. Thanks for reading!
See 60+ Five Star Reviews at www.zillow.com. Just click on "Agent Finder and Search for Devin Sanford.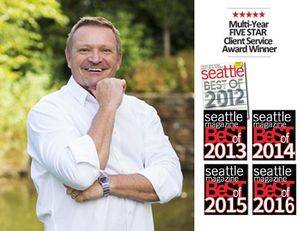 Top 10 Reasons to List Your Home with Devin