The Original Trilogy at Redmond Ridge Market Report – January & February 2017
Compliments of Your Neighborhood "Premium Service" Realtor Devin Sanford
Zero new Listings in January.
Merely Three New Listings This Year.
Buyers lined up yet Planning for Interim Housing.
A Quick Rundown for January 2017
This essayist didn't bother dispatching a report in early February to address January because there honestly wasn't anything to talk about. Whether it was the Presidential election, the cold weather conditions or a combination of each, the typical, expected January flurry of new listings was a flop. The former trend of Sellers holding off yard arms out front of their homes until the New Year, simply hasn't happened yet. However, we've scraped up enough 411 to share a few things of value for the first two months of 2017.
Six Homes Closed Escrow in Month One!
 
Model
Original Asking Price
Asking Price when Sold
Final Sale Price
Days on Market
Notations
1
Townsend
$450,000
$450,000
$450,000
0
Sold Unlisted
2
Vashon
$619,000
$619,000
$609,000
69
Back to Back

3

Madison  

$630,000

$630,000

$630,000

 

7

Quite Opulent and a View

4
Bainbridge
$739,995
$690,000
$640,000
119
Marketing Disaster!
5
Vancouver
$739,000
$739,000
$739,000
82
Cul‐De‐Sac Home
6
Hemlock
$749,950
$740,000
$740,000
6
Estate Sale Home
Homes in Bold & Green; the Elephant serving Buyers and Sellers, respectively!
These homes were all pending the close of escrow from 2016. The Madison had exceptional features including granite countertops in the bathrooms, an outdoor gas fire pit and captivating mountain views. We extend a warm welcome to our former Education Hill new Members. The Vancouver was on a culdesac, close to the club and had midlevel upgrades and an entertainment sized back yard. The Hemlock home was part of an estate sale from a special lady many will miss. I was honored to serve the family. The Townsend
was sold unlisted on the Northwest Multiple to its longterm tenant. If you're shocked by the $99,950.00 whopping price drop on the Bainbridge, join the club!
The home spent 106 days on market, longer than any of the 120 sales of 2016. If you explore the disposable camera quality photography, lack of staging and closed blinds, you'll see a perfect example of how a poor presentation can drastically affect your pocket book. I probably don't have to mention that the home closed January 27th yet reported closing on February 9th which hasn't even happened yet. Once again, the Elephant recommends hiring someone good versus nice. Appraisers call me often when working up figures on a home. I'll recommend they throw this one out. If you own a Bainbridge, don't worry. There are plenty of good comparable properties that have sold for much more.
Six Homes Closed Escrow in February!
| | | | | | | |
| --- | --- | --- | --- | --- | --- | --- |
|   | Model | Original Asking Price | Asking Price when Sold | Final Sale Price | Days on Market | Notations |
| 1 | Chelan | $419,000 | $395,000 | $395,000 | 57 | Backs to Parkway |
| 2 | Chelan | $459,000 | $449,000 | $435,000 | 70 | Nicely Appointed |
| 3 | Discovery | $495,000 | $495,000 | $525,000 | 5 | Only Sold new listing of 2017! |
| 4 | Vashon | $579,950 | $574,950 | $574,950 | 43 | Backs to Parkway |
| 5 | Vancouver | $725,000 | $725,000 | $741,000 | 4 | Greenbelt Home Site |
| 6 | Maryhill | $1,250,000 | $1,175,000 | $1,112,500 | 50 | Golf Course Lot |
Homes in Bold & Green; the Elephant serving Sellers!
One home has come on the market and closed escrow thus far in 2017, the Discovery. It's a very tidy craftsman style well cared for by a great couple who will be missed. We gained some terrific new members, however; welcome. Unpredictably, the golf course Maryhill, close to the club, took 50 days to find a Buyer and sold for considerably less than asking price. It's a very nice home and I'm guessing the shallow patio and sloping back yard may have had a bit to do with it but the market is peculiar right now.
Three Homes Await the Close of Escrow
        Here's What's Currently "PENDING" and Waiting for Recording Numbers
| | | | | | |
| --- | --- | --- | --- | --- | --- |
|   | Model | Original Asking Price | Asking Price when Sold | Days on Market | Notations |
| 1 | Bainbridge | $789,000 | $759,000 | 35 | Golf Course/Close to Club |
| 2 | Maple | $798,000 | $798,000 | 69 | Backs to Tolt River Pipeline |
| 3 | Hemlock | $975,000 | $975,000 | 2 | Opulent & Mountain Views! |
Homes in Bold & Green; the Elephant serving a Seller and a Buyer, respectively!
I'm a glass halffull person so it's difficult to share March looks bleak for contributions to the RCA working capital fund. With a trio of homes sitting in escrow and an equal number in inventory, we'll need some time to get on last year's pace. Let's hope those inspiring green sprouts protruding through the permafrost bring some serious flower power for an April lunge forward in Trilogy activity. New Listings mean new friends and shared experiences. It also, means saying goodbye to longtime friends and neighbors, which is melancholy. However, turnover is not only about settlement statements and Realtor commissions. It's vital to the solvency of our Residential Community Association budget. Working Capital and Reserve contributions keep things running, looking lovely and, of course, keep the dues reasonable.
Mother Hubbard's Cupboard
A Grand Inventory of Three Available Homes for Sale
| | | | | | |
| --- | --- | --- | --- | --- | --- |
|   | Model | Original Asking Price | Asking Price when Sold | Days on Market | Notations |
| 1 | Bainbridge | $719,000 | $719,000 | 7 | Close to Cascade Club |
| 2 | Maple | $835,000 | $835,800 | 7 | Very Well Decorated |
| 3 | Hemlock | $935,000 | $875,000 | 106 | Absent Seller |
As I sit here on March 3rd, wrapping up the data and commentary in this report, the Cedar sits in escrow after eight days. It's a gorgeous home with impressive furnishings and décor. We wish the Sellers well in their next destination as they leave two homes on the market. The Bainbridge is close to the club and is sure to find happy new inhabitants soon.  The Hemlock, Trilogy's most sought after floor plan, is approaching four months on the market and there are several reasons. If I got into them, I'd have to apologize to the Bainbridge. I'll move on.
Note: All currently available listings are posted at
www.DevinSanfordHomes.com on the home page.
Hover over the Trilogy tab and select "Current Trilogy Listings" from the
dropdown list. For all listings, click "View all Trilogy at Redmond Ridge
Listings." Within this report, we share what is available at the
first of the month for consistent and measurable month over month
reporting.
Buyers May Need to be Patient
Most of you know most my business is preparing properties for sale. Over the last many months, I'm finding I am lining up Buyers who are introducing themselves to me in the hopes that I'll give them their best shot at seeing a property first. I've been touring more and have couples from South Carolina, Pennsylvania, the Bay Area and other cities who have sold their homes and will be closing escrow soon. They'll be packing up their wares and heading this way in the hopes of finding their dream home. My hope is that the inventory will increase soon. Of course, with well wishes for the Sellers to be making the move at the right time.
I've been sharing with Buyers they'd be wise to set up possible interim housing until the right home comes available. If you have a friend coming this way and our EMarket Report, you'd do them well to advise the same.
The Buyers I have are solid and anxious. Most urgently, if you're thinking of selling a two bedroom, plus Den under $650K, let me know. We need more than one. If you have a nicely situated Vancouver or Hemlock with little to no stairs, I'd like to talk. We can give you time to get out on this one.
Did you Enjoy the 2016 Year in Review? We sure hope you enjoyed the information. Countless hours go into preparing the yearly report. We want to make sure that it's not only tight, terse and telegraphic but, more importantly, accurate. We trust, when you want to know the facts or simply have a question, you'll know who to reach out to. The Elephant would love to hear from you.  More than one of you have asked me why I advertise the names of all the other brokers who represented Buyers or Sellers. Others may have the same question. I really appreciate your thoughts. I've often mentioned my favorite quote of J. Paul Getty who said, "A sure way to success is to observe the masses and do the opposite." I don't think any of my competitors would credit me in their advertising. By the way, I hope you find some real value for yourselves in the type of marketing I do.
Many times, I've recommended to you to interview at least two or three Realtors before choosing who will represent you. Serving Buyers and Sellers is my passion and more; it's my life's purpose. I asked the good Lord years ago, "what is my life's purpose? How can I make a difference?". I realized the skill set I was given was telling me exactly what my life's purpose is. It's helping others. I'm a nurturer by nature. Okay, I'm selfish. I get gratification by doing not just a good job for you but a great job. You give me purpose. I believe good things come to those who work hard so go ahead, interview the others then, interview me. I'm not afraid to work hard to get your business, you'll feel better doing your due diligence and, ultimately, choosing "The Elephant Way".
I get along with my counterpart real estate brokers.  They email or text or call me daily wanting to know what I've got up my sleeve. I'm happy to share the information. I like a fair playing field and I put myself right out there. It keeps me accountable and motivated.  Mr. Getty said this too: "It has always been my contention that an individual who can be relied upon to be himself and to be honest unto himself can be relied upon in every other way." When I pass, I'd like my headstone to read, "When Devin said he was going to do something, he did it."
Also, I wanted you to see just how many different Brokers are doing at least one or two sales a year in 350+ Trilogy Homes Sold "The Elephant Way" by Your Neighborhood "Premium Service" Realtor Trilogy; just how many know about Trilogy now. There is a Buyer's Agent and a Seller's Agent in nearly every transaction. With 120 sales for 2016, the number of brokers who did business in our neighborhood well exceeds 100. Now that I've shared why I showed you everyone's names, I will acknowledge that this is a business and, maybe next year, I won't share those names. I'm sure you picked up a postcard or three in your mailbox and noticed familiar photos, redactions to their rankings and now, offering, a few of the services I've been providing for years. That too, keeps me sharp and always looking for ways to better serve you. I've always been hard on myself but I'm learning. I will admit I'm going to let them come up with more of their own ideas so, if you'd like to know all my secrets, you'll need to interview me for the job. I'd be grateful.
Here's a Recap of Year-to-Date Sales:
| | | | |
| --- | --- | --- | --- |
| | Jan. | Feb. | YTD: |
| | | | |
| $old | 5 | 6 | 11 |
| Pending | 9 | 3 |   |
| Active | 2 | 3 |   |
Final Thoughts…
Historically, I've had five or six new listings in January within Trilogy. So far, this year, I've had zero with one or two finally coming on in March. I even have Trilogy Realtors asking me "Do you have this or that floor plan coming up?". Regretfully, I've been telling them, "Go Fish." Plainly speaking, it's very slow. I'm especially surprised that the lovely Bainbridge with the nice back yard and close to the club wasn't snapped up immediately. Things are weird right now. I'm still trying to figure it out. I'm not sure exactly how this month is going to go. I've never seen such a slow resale start to a year. March is usually where things find a new gear. Let's see what some flower power will do. I'm optimistic!
That's a wrap for January & February. We hope these facts have been helpful. We measure our success by how well we serve others. If you have a real estate need, just let us know. Thanks for reading!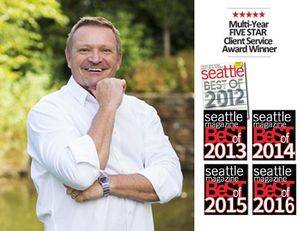 Devin Sanford
Managing Broker, Realtor®
Trilogy at Redmond Ridge Specialist
Listing Specialist
Luxury Home Specialist
55+ Active Adult Community Expert
Accredited Buyers Representative
Direct + Text // 425.501.8424
[email protected]