Pricing and Days on Market Remain Consistent. Typical Fall Slowdown Coming into Play
Uncle Sam Collects Tax on Seven August Closings
 
Model
Square Footage
NWMLS
Number
Original Asking Price
Final Sale Price
Days on Market
Dollars/
Square Foot
Remarks
1
Vashon
1,570
1821143
$829,000
$880,000
2
$560.61
Division One Greenbelt Home
2
Whidbey
1,670
1802195
$889,000
$1,010,000
0
$604.79
Greenbelt Near Cascade Club
3
Vancouver
1,930
1800305
$985,000
$1,021,000
5
$529.02
Corner Lot Bottom of Division 6
4
Bainbridge
1,850
1812762
$975,000
$1,025,000
3
$554.05
Well Appointed Greenbelt Home
5
Nice
1,960
1821301
$1,189,000
$1,200,000
5
$612.24
Division 12 & Very Upgraded
6
Cedar
2,419
1802953
$1,285,000
$1,300,000
4
$537.41
Lovely Greenbelt, Lavish Landscaping
7
Oakwood
2,680
1813743
$1,498,000
$1,550,000
3
$578.36
Last Home Built in Trilogy
The Elephant Serving Sellers
Sold properties went under contract in a flash, averaging three days on the market. Original offering prices were a tad under 1.1 million dollars with average final prices of about $40,000 or 5% over asking. The least expensive home closed Escrow at $880,000 with the high-end reaching $1,550,000 for an Estate Collection home backing to Novelty Hill Road and the Trilogy Entrance Water Feature. Shea Homes, Inc. constructed this final home in 2013 to complete the build-out.
 
Eight Sales for September
 
Model
Square Footage
NWMLS
Number
Original Asking Price
Final Sale Price
Days on Market
Dollars/ Square Foot
Remarks
1
Vashon
1,560
1818270
$950,000
$950,000
6
$608.97
Huge Sundeck & Territorial View
2
Whidbey
1,670
1829034
$994,950
$995,000
7
$595.81
Spendy Custom Master Bath
3
Monaco
1,590
1828409
$998,000
$1,000,000
8
$628.93
Upgraded and Rare Floor Plan
4
Cedar
2,409
1832702
$1,149,500
$1,149,500
5
$477.07
Backs to Trilogy Parkway
5
Alder
2,630
1822571
$998,000
$1,200,000
1
$456.27
1.5 Story Backs to Parkway
6
Bainbridge
1,870
1814134
$1,000,000
$1,287,000
5
$688.24
A Very Premium View Lot
7
Alder
2,630
1811129
$1,498,000
$1,301,000
11
$494.68
Golf Course Lot yet sold for $197,000 below Asking
8
Hemlock
2,300
1835344
$1,295,000
$1,450,000
2
$630.43
Opulent Designer Home
The Elephant Serving Sellers
 
September revealed eight sales edging August out by a single closing. Average asking prices were roughly the same as the month prior at $1,110,000 with final figures averaging about $56K or 6% of the original offering figure. Days on market were still insignificant doubling to six. Properties are listed for sale on the Northwest Multiple Listing Service website within two boundary areas. Oddly enough, most Trilogy properties are listed in area 600 which is Juanita/Woodinville. The remaining homes, much closer to Novelty Hill Road fall into area 550 which is Redmond/Carnation. Brokers searching by areas know this and search by neighborhoods. These areas average 31 and 34 days on market, respectively, according to NWMLS statistics. This means Trilogy falls well below the approximate one month's worth of inventory. Not a single month end has resulted in more than three homes available for sale all year. There were brief periods of more inventory but never at the last day of the month. If we take the total number of listings on the market last month (3) and divide that by the total number of sold transactions for last month, Trilogy host less than two weeks of supply. If you wondered, yes, it's still an excellent time to put your home on the market. It remains a Seller's market.
We stated last month our observation that you can't underprice a decently presented property in this market of low inventory and pent-up demand, but you can over-price. The two "Alder" homes above appear to be a perfect example of this. I was surprised to see a 2,630 square foot Alder listed for under a million dollars but it's proof in the pudding that the market will drive the price up. In fact, within the boundaries of not being stupid, the lower you price the home, the more visitors you are going to have. That home sold for more than 20% or $200K over the asking price! Conversely, a more generously appointed Alder inside and out, on not only a larger lot but a golf course lot asking way too much, in my experience. It sold for just 86.5% or $197,000 under the asking price. I'll admit I don't know the pricing strategy of each Seller. However, it does appear one worked much better than the other. This is not a market to throw it against the wall and see if it sticks and thinking, "They can always make an offer." That's not current thinking. Both homes were represented by the same Brokers, whom I'm confident counseled each of the Sellers.
---
Recent Closings for the Pachyderm include: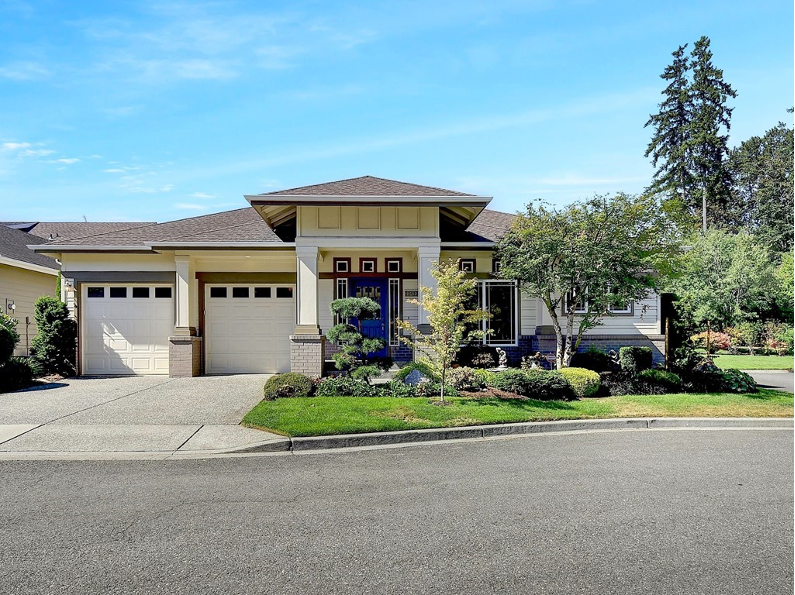 Cedar Plan Near the Club
$1,149,500
Sold Full-Price in 5 Days!
Knowing the ins and outs of Trilogy was key in this successful and quick sale.
---


This is a lovely home backing to Trilogy Parkway…a challenge for some. Accentuating the positive, eliminating the negative and pricing exactly right for both parties was key.
Vashon Plan
Sold 5% Over Asking in 2 Days!
Offered at: $839,000
Sold For: $880,000
---


"Service is the rent we pay for being. It is the very purpose of life, and not something you do in your spare time."
Marian Wright Edelman
---
The first thing the Elephant does before preparing a listing is see what the home needs to present at its absolute best along with coaching the Sellers as to what is worthwhile to upgrade and what is not. Sometimes a little goes a long way; other times substantial changes still won't burst you into that higher price range and others it will help to achieve net proceeds you'd never thought possible. Each of the homes you see had new elements ranging from upgrading flooring to complete interior paint jobs. One thing you can count on every time is for a Pachyderm presentation to be spotless inside and out. We have the Vendors for nearly every task, and we line them up. We purposely don't take on too many projects at once, so we are sure to get it right. We'll serve no wine before it's time and we have the time as well as Vendors to line it all up for you.
 
Seven Homes Under Contract Awaiting Closing
 
Model
Square Footage
NWMLS
Number
Original Asking Price
Asking Price when Sold
Days on Market
Remarks
1
Discovery
1,350
1842659
$675,000
$675,000
5
Cleverly Designed, Lush Landscaping
2
Vashon
1,560
1824524
$859,000
$849,000
40
Modestly Appointed and Near Club
3
Vashon
1,560
1835212
$925,000
$925,000
5
Heavily Upgraded In & Out…Lovely
4
Bainbridge
1,870
1828753
$950,000
$950,000
5
Very Upgraded, Large Greenbelt Lot
5
Cedar
2,306
18258500
$1,100,000
$1,100,000
6
Original Model Home Needing TLC
6
Hemlock
2,183
1834183
$1,298,000
$1,298,000
5
Large Corner Lot
7
Hemlock
2,170
1831427
$1,375,000
$1,375,000
4
Golf Couse Home on 5th Fairway
The Status of these homes are as of the last day of July.
 
It took combined sales from all of August and September to match the 15 stamped deals for July. There were 15 homes under contract at the end of June helping July to reach those final closing numbers. July ended with five "Pending" sales, August had six and September, seven. I'd expect October closings to fall along those lines. Five or six days on market continues to be the trend as each of the homes receiving recording numbers had little to apologize for to perspective Buyers in a continued period of low inventory.
 
Three Available Properties at September's End
 
Model
Square Footage
NWMLS
Number
Original Asking Price
Current Asking Price
Days on Market
Remarks
1
Whidbey
1,670
1843979
$925,000
$925,000
9
Corner of Trilogy Parkway and 126th
2
Hemlock
2,320
1846462
$1,388,000
$1,388,000
1
Greenbelt home in "The Hood"
3
Maryhill
3,399
1833091
$1,475,000
$1,475,000
29
Modest Maryhill on Cul-de-Sac Greenbelt
It's highly likely these homes will find owners before you read this although not cast in stone.
No matter how you slice it, no two homes of the same floor plan are identical. Keeping oneself in check by removing the emotional aspect of selling is vital. We need to establish a fair asking price by comparing to real sales; that means closed sales. Sellers should consider what lifestyle their home represents, what is special and different about the home, who are your best prospects and how do you reach them. Once the home is prepared for market, these questions are important to determine how your home should be portrayed and to whom you're going to target. Every home has a story and someone who wants to live it. Having someone who can tell that story well enough with key words or phrases on the Internet is an art. Artificial Intelligence captures many shoppers these days. If you can accomplish that, the perfect Buyer will come knocking. Did you know Elephants can hold a pen with their trunks?
 
Elephant Observations and Prognostications…
 
Activity is steady. New homes are coming on the market regularly and finding themselves in Escrow quickly. Buyers seemed to have learned to navigate the market better by being more prepared to make more attractive offers. Most have their pre-approval letters or bank letters ready to make stronger offers with proof they can pay for the property. Grandkids are back in school which should free up shopping time for those who were too busy to get out during Summer. 30 Year fixed rate mortgages are below 3% for qualified Buyers and many coming from out of state are selling their former dwellings in similarly strong markets. Life is good.
Low inventory will continue that way as the Buyers are still out there while some Sellers prefer to wait for Spring before listing. Everything looks rosy for the remainder of the year well into 2022 but anything can happen. I enjoy hearing the different opinions and thoughts of the future from many of you. Some say, "Nothing is sure but death and taxes." I prefer to stay optimistic and can only research and keep faith in trends and history repeating itself. Right now, we're looking good, so when deciding if you should stay or go, I love how Bob Marley put it when he said, "Love the life you live. Live the life you Love." If you'd like to bounce a few things around, I'm here for you. Elephants have big ears.
As always, thank you so much for taking your valuable time to read our reports. We hope you find them helpful.
That's a wrap for September!
Month over Month Stats:
| | | | | | | | | | | | | | |
| --- | --- | --- | --- | --- | --- | --- | --- | --- | --- | --- | --- | --- | --- |
| | Jan. | Feb. | Mar. | April | May | June | July | Aug. | Sept. | Oct. | Nov. | Dec. | YTD |
| $old | 6 | 2 | 8 | 6 | 12 | 10 | 15 | 7 | 8 | | | | 74 |
| Pending | 4 | 6 | 5 | 9 | 8 | 15 | 5 | 6 | 7 | | | | |
| Active | 1 | 3 | 0 | 1 | 2 | 1 | 3 | 2 | 3 | | | | |
| $old D.O.M. | 5 | 3 | 5 | 20 | 4 | 6 | 5 | 3 | 6 | | | | |
| Active D.O.M. | 8 | 0 | 0 | 10 | 24 | 7 | 5 | 10 | 13 | | | | |

Zillow Review
Devin is fabulous. He over exceeded our expectations and made the sale of the home very turnkey. We are incredibly grateful to Devin and his team. Best, Cheryl Reynolds
Cheryl Reynolds | Seller | Redmond
Read My 100+ Five Star Reviews on my Amazing Success Stories Page.
---
Trilogy Market Report
If you'd like to join the hundreds of Trilogy Members who get these monthly reports DAYS SOONER via E-Newsletter, Signup For The Trilogy Market Report and we'd be happy to add you to our list of in the know recipients.
---
Award-winning Real Estate Agents in greater Seattle
Five Star…the definition of professional excellence
---