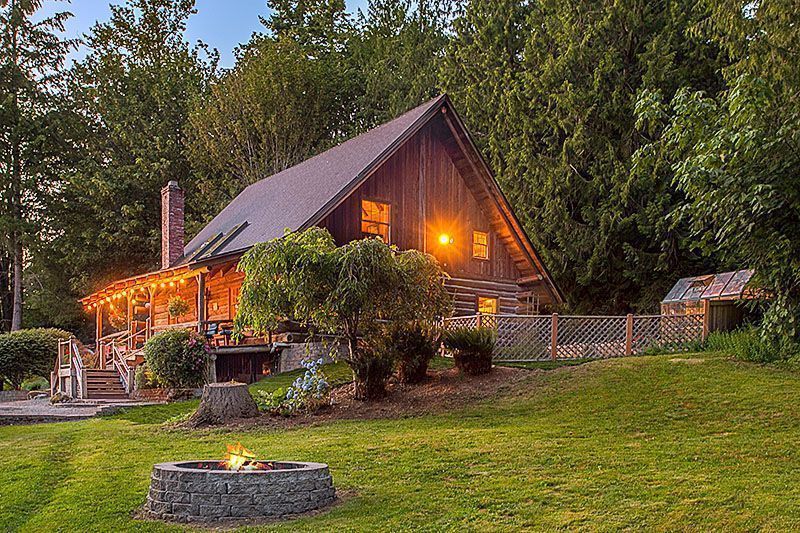 Sold
$699,999

Property Type:

Residential

Location:

Redmond

Beds:

1

Baths:

1.75

Sq Ft:

1,920

Lot Sq Ft:

4.91 Acres
Authentic Northwest Living At It's Best – Views, Location, Modern Conveniences
1,920 Square Feet
Approved for 3 Bedrooms
1.75 Bathrooms
4.91 Acres
Authentic Real Log Home
Built in 1981
Covered Front Porch
Partial Olympic Mtn. Views & Great Sunsets!
Open Floor Plan Design
Formal Dining Room
Additional Wood Burning Stove/Oven
Huge Walk-In Pantry
Large Kitchen with Slab Granite Counter Tops/Wood Floors
Separate Laundry/Mud Room
Authentic River Rock Fireplace with Fireplace Xtrordinair Insert
New Composition Roof in 2015
Heat Pump & Air Conditioning
Separate two-story Bunkhouse/Art Studio/Home Office
Storage Shed
Covered Outdoor Patio/Entertainment Area
Greenhouse (8 x 12)
Astro Turf/Low Maintenance Yard (The same as the Seahawks!)
There's never any question where Thanksgiving will be celebrated with this Tremendous Formal Dining Room.
Feel at home in this inviting Living Room with your own Fireplace Extrordinair surrounded in real river rock.
Pour a glass of Champagne, light a candle and settle back with the
newest best seller in your old world Clawfoot soaking tub.
The Open Kitchen/Great Room Concept design allows everyone to stay connected and provides a wonderful flow for Holiday get-togethers.
Gather around your large Kitchen Island and grab a bowl of Chili from atop the wood stove which is doing a fine job of warming the room.
The loft hosts a ¾ bath with walk-in shower, two large closets, skylights, Ceiling Fan, work space and can easily be re-configured into three bedrooms or left open concept as is.
The "Bunkhouse" is the perfect place for your home offices, an Artist Studio or a
Slumber Party for the kids.
History of the Sjolander Log Home
Who'd have known what an early 80's, four day rafting trip down Southern Oregon's magnificent Rogue River would have led to for High School Sweethearts, Alan & Judy Sjolander. Al grew up on Lake Sammamish. Judy arrived in the Evergreen state at four years old. They met at Lake Washington High School and were married at 18. A little over a decade later, their lives would never be the same.
After each days excursion down Oregon's scenic tributary, the evening's encampment was a quaint log home. "Homey, simple and Strong" is how Al described each of them. "And they smell good. The Fir and the Pine, the warm fires and the love of your life by your side; It just doesn't get any better." And so it began, the comfort of a Log Cabin becoming the realization of a real Log Home.
In 1981, Al and their son, Jay signed up for Log Home Building School. A model of dowels was constructed, the property was cleared and resources were found. 120 of the perfect sized logs were brought over on trucks from Mazama Washington. There was no easy route to the driveway in those days. The mammoth trucks couldn't make the climb so they dumped the logs at the bottom of the main road. Each evening, Al and Judy set the chokers and the chains and dragged a log or two to the site. Each morning, the borrowed tractor that dragged the logs had to be returned to the friend who was lending it so he could perform his trade. The bark was tough and they could skin about a log and a half a day in the beginning. When their skills and muscles had developed, two was still all they could muster.
There were no cranes. This was a matter of accomplishment, pride and doing it right. Every log right up to the ridge pole was carefully put in place using only block and tackle. When the day was nearing end and they could no longer hold the skinning blade, they hammered 16 penny, galvanized nails every two to three inches at each abutment and bent them over to hold the forthcoming mortar in place. Rebar dowels were driven down the pre-drilled holes to connect each upper log to the one below. Every stone for the dramatic fireplace was hand-picked from an undisclosed River near Winthrop and this monument was never going anywhere. Eight months later; behold a stronghold that would create dreams and memories for many years to come.
After eight years, Al and Judy moved on but retained ownership of the home and rented it for a few years. In 1994, daughter, Amy moved in with her son and daughter, who were Kindergarten and first graders and absolutely cherished every moment. In 1999, Amy met the love of her own life, the talented and handy Greg Weisbrich. The two were soon married, Greg moved onto the estate and the Newlyweds purchased the home from Al and Judy. Amy said, "When we purchased the home, Greg worked his fanny off making a yard and gardens for the kids. " Now, whether you're a Seahawk Fan or a Cougar or a Husky Fan, you can enjoy playing with the kids or practicing your chip shot on the same turf the athletes use" Greg adds. It's what he does for a living.
Greg and Amy lived upstairs on the backside of the Lodge and Greg created two bedrooms for the kids to the front side of the loft where the expansive Master Suite now stands alone. One side received light from the Skylight and the other from the window. It worked out well. Amy says, "The kids loved growing up in this house and on this property. They built tree houses with their cousins and had great hide and seek games in the woods. Later, we had motorcycle trails and go kart trails in the back that was fun for all! The sunsets are beautiful all year long up here and we sit by the fire and take it all in." She also says, "The wood stove in the kitchen is a great source of heat in the winter and a wonderful place to simmer stews and chili. The fireplace in the living room is a Fireplace Extrordinair which is so nice because it has its own thermostat and a fan that blows heat into the room." You never have to worry about what size Christmas tree you get because the ceiling is 25 ft. tall." Greg says, "Additional rooms are a piece of cake to recreate."
In 1967, Al and Judy invested in Lil' Jon's restaurant in Eastgate serving incredible cinnamon rolls and delicious homemade soups and are known for incredible breakfasts. Later on, Jay and his wife, Gina, partnered with them. To this day, Amy works the opening shift and enjoys visiting with all her regulars whom she loves! Lil' Jon's will be celebrating 50 years next year. As for Al and Judy, They're celebrating 58.
Greg, Amy, Al, Judy and Family invite you to care and love for their amazing home, built with dreams, passion, painstaking detail and mostly, love and hope you find as much happiness as they have living the dream.
| | |
| --- | --- |
| Price: | $699,999 |
| Address: | 2804 269th Ave. NE |
| City: | Redmond |
| State: | WA |
| Zip: | 98053 |
| MLS: | 970313 |
| Year Built: | 1981 |
| Floors: | 1.5 |
| Square Feet: | 1,920 |
| Lot Square Feet: | 4.91 Acres |
| Bedrooms: | 1 |
| Bathrooms: | 1.75 |
Tagged Features
Location Map
Listing Inquiry