5 Things You Should Look for in a Senior-Accessible Home
– Guest Blogger Jim Vogel By Jim Vogel  |  Elderaction.org
Downsizing is arguably one of the best decisions you can make as you enter your golden years. It's known to taper down living expenses, which is useful for seniors living on a fixed income. Not only that, moving into a smaller home is a great way to reduce responsibilities like home maintenance, housekeeping, and more.
Needless to say, buying a smaller and more accessible home post-retirement will ensure that you maintain your quality of life in more ways than one. But of course, you need to take into account factors like your mobility, medical needs, and budget—to name a few—in order to choose the perfect home that ticks all the boxes for you now and in the future. Don't settle for less than the following features:
Budget-friendliness
No doubt, your budget will be at the forefront of your decision-making. Post-retirement, many seniors find themselves living on a considerably less and fixed income, which can be quite an adjustment. If you're in this situation, you may find yourself hesitant to make significant financial decisions, such as buying a new home. However, you should know that you may have more options and more benefits you can tap than you realize.
Case in point, veterans may not be aware that they qualify for a VA home loan. This is actually a really great benefit as it makes it possible to buy a home with little or even zero down payment. Not only that, with PennyMac VA loans, veterans eligible for such a loan enjoy rates that are so much lower than conventional loans and can even forego paying for private mortgage insurance entirely. It's a good idea, therefore, to do your due diligence to find the benefits and options available to you.
Space
Of course, having the right amount of space is one of the objectives of downsizing. Not only do you need to choose a new home that has all the space you need to be comfortable, but you also need to declutter to make space. This entails getting rid of things that no longer serve you. This way, you have less stuff to clean, maintain, and repair. More importantly, there are fewer items that can potentially be trip hazards, so you also reduce your risk of injury.
In the process, you will also likely encounter possessions you simply can't part with for sentimental reasons. Passing them on to loved ones can be a good option, as can selling or donating them. You can also consider putting them in storage until you come to a more concrete decision. On average, a storage unit in Everett will set you back $96 per month, which is arguably a small price to pay for your peace of mind.
Layout
It's undeniable that as people get older, they are prone to increasing mobility issues and physical limitations; it can become harder to get around. For this reason, a senior-friendly floor plan is something that you should definitely consider for your forever home.
At the most fundamental level, single-story homes are more than ideal, as stairs are not only inconvenient but unsafe, too. Not only that, but seniors generally need wider doors and hallways, taller countertops and lower cabinets.
Features
Similarly, your new home should also have features that make it senior-accessible and safe. These run the gamut from functional doorknobs to good lighting to plugs and switches within reach.
The bathroom, in particular, is an area that needs significant embellishment and customization. At the very least, it will need to have grab bars and rails, as well as non-slip mats and flooring to reduce the risk of falls.
Location
And lastly, the most important rule of real estate still applies: Location, location, location. This is because it's crucial for you to be close to loved ones and other people you trust. Ditto with shopping and medical centers, as well as the activities that you love most and the services you frequent.
Indeed, buying a new home at this stage in your life can seem daunting, but more often than not, it will work out to your benefit. So don't scrimp on the key features that you need. Rather, your comfort and safety should always be your priority.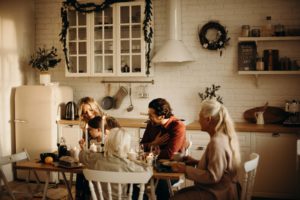 Image URL: https://www.pexels.com/photo/family-sits-on-table-inside-kitchen-3171153/
Image Credit: Photo via Pexels.com